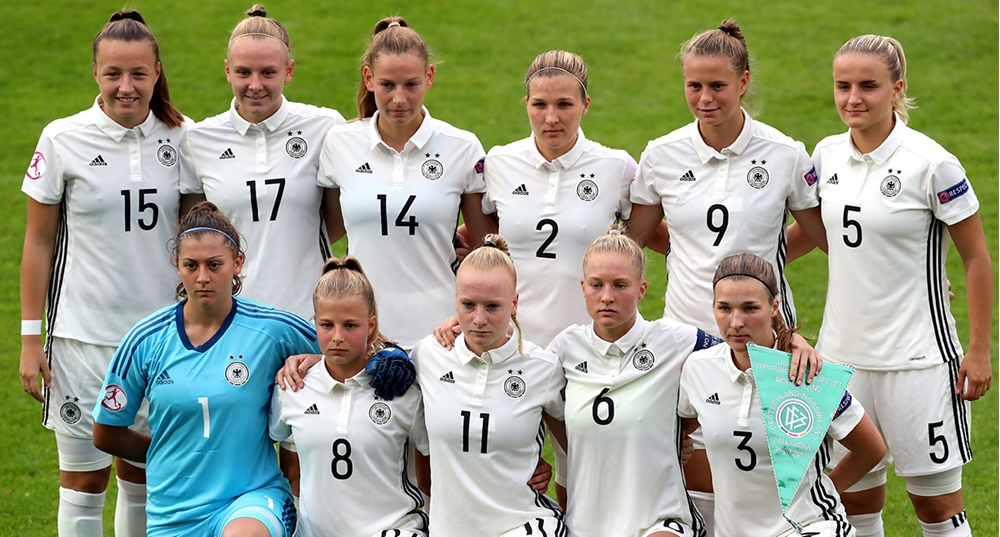 Germany and The Netherlands are the favourites to progress to the final of this year's Women's U19 Euros.
Both sides have unbeaten records going into the semi-finals at the National Football Stadium at Windsor Park tomorrow (17 August).
The Netherlands, who won Group B with seven points, will be aiming to get back to winning ways in the first semi against Spain (15.00) after drawing their third and final group game.
And Germany, who topped Group A in reaching the last four, have a 100% record to maintain as they prepare to face holders France in the second of the semis in Belfast (19.00).
In their first two games the Netherlands looked imperious. They dominated the first half of their opening Group B game against France, with Victoria Pelova pulling the strings, and never looked like relinquishing their 2-0 half-time lead – and that's how it finished.
Pelova, ably assisted by Nadine Noordam, was also a class act as the Dutch powered past England (2-0) in their second game. Striker Joelle Smits, who scored one of the goals, looked sharp, too.
The Dutch had a slight blip against Italy (3-3). They gave a handful of players their first starts of the tournament and lacked their usual fluidity. Noordam and captain Kay-Lee de Sanders, a no-nonsense defender, both picked up knocks during the game but they should be OK for the semi.
After losing out to Germany (2-0) in their second group game, Spain bounced back in their third game when they defeated Scotland by a goal to nil.
The Spanish, who defeated Northern Ireland 2-0 in their first game in the UEFA Championship, have a couple of skilful wingers, a great playmaker in captain Carmen Menayo and a proven striker in Lucia Garcia, so they will provide a stiff test for the Dutch, who are undoubtedly on a high after seeing their senior women's side winning this year's Euros on home soil.
Following three excellent performances to date -  a 3-0 win against Scotland, a 2-0 victory over Spain and a 6-0 demolition of host nation Northern Ireland - the Germans simply do not look like faltering against a French side who lost 2-0 to the Dutch in their opening group game before bouncing back with an emphatic win against Italy and a last gasp victory over England.
Germany look strong in every department. They even managed to rest a few of their first choice players against Northern Ireland but still oozed class and confidence.
Players with great technique and ability can be found right across the park, from hard-running full back Dina Orschmann to holding midfielder and captain Janina Minge to attacking midfielder Laura Freigang and striker Klara Buhl.
France are definitely underdogs, although they did show lots of flair and panache when disposing of Italy in their second group game by six goals to one. And they played well against England even if they needed an OG to progress to the semis.
The French have a talented keeper in captain Mylene Chavas, while Mathilde Bourdieu and Emelyne Laurent provide a lot of energy in the attack.
Meanwhile, there's also a big game at Mourneview Park in Lurgan tomorrow (19.00) where England and Scotland, who both finished third in their respective groups, will contest a play-off for a place in next year's FIFA WU20 World Cup in France.
England, who were tipped to win the WU19 Euros before the tournament got under way, will no doubt pull out all the stops to ensure their summer finishes on a high, however Scotland will have other ideas.