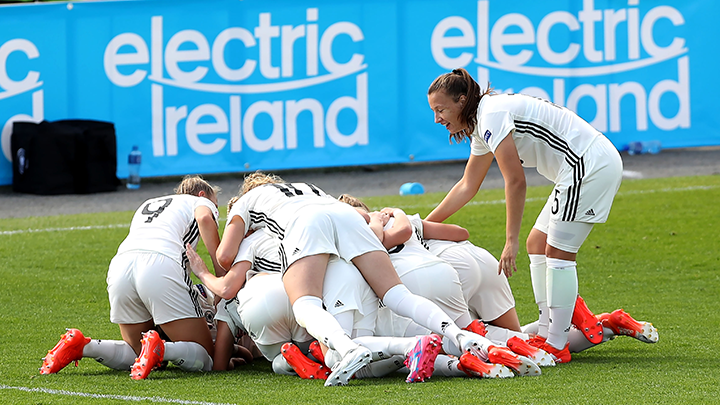 Northern Ireland have a mountain to climb to stand any chance of grabbling a place in the semi-finals of the UEFA Women's Under-19 Championship Finals.
Arguably Spain are in the strongest position of the three teams from Group A who can still make it to the last four.
Scotland and Northern Ireland can get there, but they will need to win their respective games and hope other results go their way.
If Spain (currently on three points) beat Scotland at Mourneview Park this evening (14 August, 7pm) they will go through.
However, Scotland (one point) can reach the latter stages of the tournament if they beat Spain and Northern Ireland lose or draw against Germany in Ballymena this evening (7pm KO). 
If Spain (zero goal difference) and Scotland draw then Northern Ireland would progress if they beat Germany by at least three goals.
And if both Northern Ireland and Scotland win then the team with the better goal difference will make it through. Scotland currently have a minus-three goal difference, while Northern Ireland are on minus-two. 
Germany, with two wins out of two, are unlikely to take their foot off the gas at Ballymena Showgrounds. Tournament football is all about momentum and Germany will be keen to maintain their winning streak. 
That means, of course, that Alfie Wylie's Northern Ireland side will have to play the game of their lives and defeat the Germans by three goals to stand a realistic chance of progressing to the last four.
Meanwhile, two teams still have an opportunity to join the Dutch (who have also won their two games to date) in the semis from Group B – and they meet each other this afternoon in Ballymena (3pm KO).
England, who were among the pre-tournament favourites to win the overall title, will have to defeat current holders France if they are to make it to the last four.
The Netherlands defeated both countries 2-0, while England beat Italy 2-1 in their first game and France hammered the Italians 6-1 in their second game. 
The scorelines against Italy suggest the French may be slight favourites this evening, but the teams are evenly matched. It may be a cagey affair.
At Shamrock Park in Portadown this afternoon (3pm KO) the Dutch should maintain their winning run against the demoralised Italians, who were the first team to exit the tournament after their heavy defeat against the French.
The semi-finals are being staged at the National Football Stadium at Windsor Park on Thursday (17 August, 3pm and 7pm), while the final is at the National Stadium in Belfast on Sunday (20 August, 7.30pm).
Tickets for today's games can be purchased at the gate, while tickets for the semi-finals and final are on sale via the Ticketmaster website by clicking here