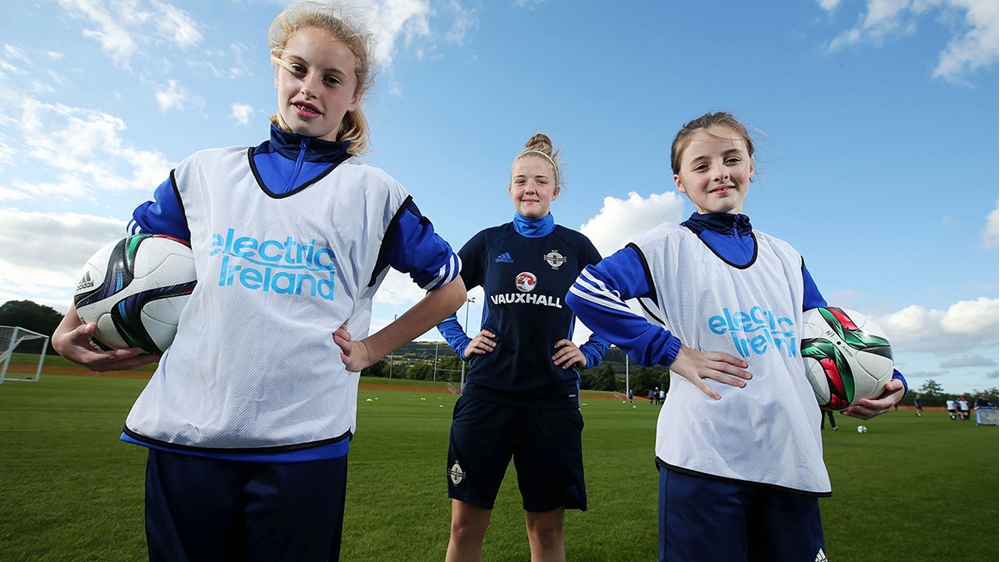 Young players from Ballymena United All-Star Ladies Football Club had a Game Changing experience this week thanks to Electric Ireland.
The players took part in a special coaching session with the Northern Ireland Under 19s Women's team ahead of the UEFA Women's Under 19s Championship, sponsored by Electric Ireland, which is kicking off at the National Football Stadium tomorrow (8 August)
The aspiring female footballers played alongside their local U19 heroes in football training drills, honed their dribbling skills and took penalties.
Speaking from the squad's training base, Northern Ireland U19 Women's Manager Alfie Wylie said: "Today was a real game changing opportunity for the young female players from Ballymena. We hope this experience today has inspired them to keep on playing the beautiful game.
"Both the Irish FA and Electric Ireland are committed to growing female football participation across Northern Ireland and hope all will be inspired by the upcoming UEFA Women's Under 19 Championship."
Electric Ireland's Game Changers campaign runs in partnership with The Irish FA seeking to break down the perceptions that exist around women's football, celebrate female football talent and help boost participation rates beyond the current 10,000 Game Changers who currently play football each week across Northern Ireland.