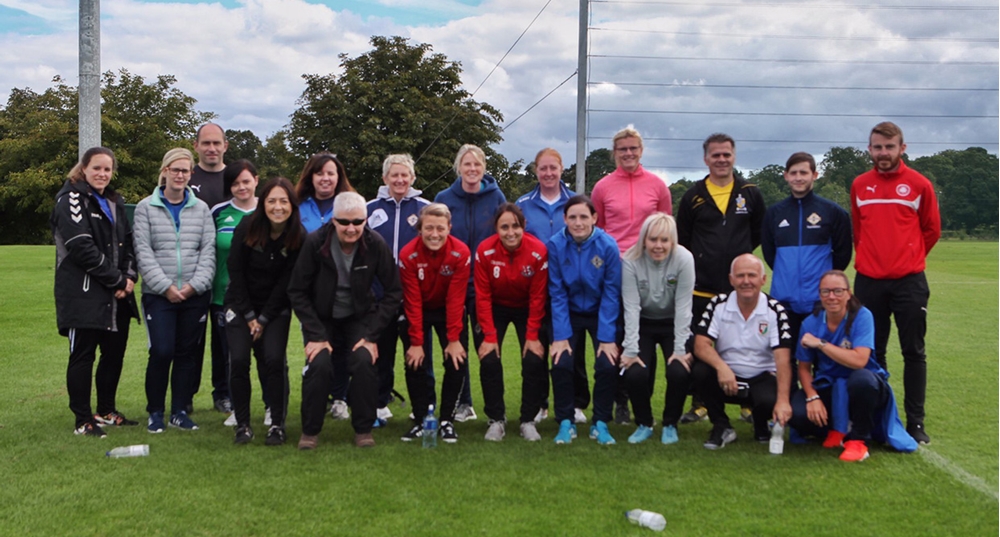 Top female coach Anna Signeul led a successful UEFA workshop this weekend in conjunction with the UEFA Women's Under-19 finals aimed at head coaches within the female game.
The workshop commenced on Friday night in Lurgan where coaches had a brief introduction to game and player analysis, prior to watching the Northern Ireland v Scotland game. While watching the match the coaches analysed different aspects of the game in groups, to deliver in presentation format the following day.
On Saturday, the coaches had time to prepare, discuss and evaluate the game/player analysis carried out by each group; they also got the opportunity to watch the Northern Ireland team train and pose questions to their coach Alfie Wylie.
The workshop on Sunday was geared towards coaching philosophies and style of play. Anna Signeul led the discussions giving the group valuable insight into her coaching philosophy, the values that have helped her shape this and guided her through her successful career. 
The coaches also visited the German teams training, where their coach and former German international Maren Meinert kindly answered questions about her coaching philosophy.
Overall the weekend was incredibly informative, leaving the coaches feeling inspired and equipped with useful knowledge to assist them in their coach education pathway.
Our thanks to Anna Signeul for giving up her time to deliver an exceptional, constructive weekend.