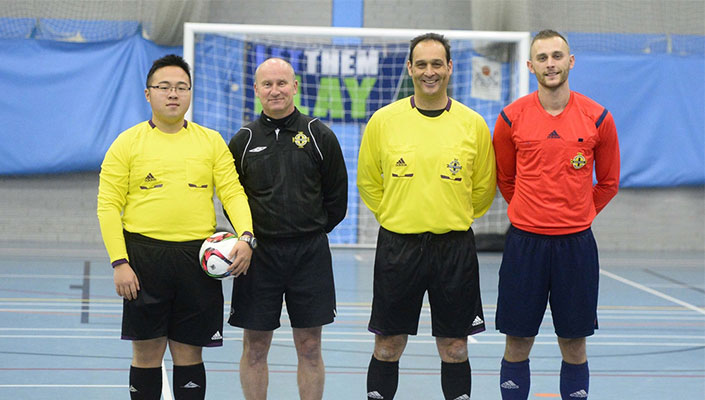 Futsal Strategy Referee Development Objectives
Recruit 250 fully qualified Futsal referees by 2020.
Develop a team of Futsal Referee Tutors to assist with referee development by 2016.
Specialised development programmes establish for Futsal referees by 2017.
Facilitate a FIFA Futsal Referee Conference for local referees by 2017.
Have a referee officiating in UEFA and FIFA competitions by 2020.
Coordinate specialised courses for Futsal referees.
Referee Development
This Irish FA have established a Futsal Referee Introductory Award that is designed to focus on knowledge of the FIFA Futsal Laws of the Game and the practical referee skills required to officiate a game of Futsal.  This 10 hour course will include a theory and practical examination and will also educate participants on the Irish FA Futsal Referee pathway and development programme.
For more information contact referees@irishfa.com
Futsal Referee Education Courses
Futsal Referee Course
The Irish FA have also developed the Futsal Referees course which is a comprehensive look at the Futsal Laws of the Game.  The Futsal Referee course compromises a mixture of online modules, classroom based activities and a practical module.  The classroom and practical element of the course is run over two separate evenings in venues throughout Northern Ireland. Upon completion of the course you will be eligible to referee in the youth and senior men's/women's leagues which are appointed by the Irish FA.  The cost of the course is £40.