Ahead of the Game is the Irish FA Foundation's mental health programme for football clubs.
The course aims to support clubs and volunteers when dealing with mental health issues, challenging the stigma around mental health, promoting positive mental health and preventative measures. Ahead of the Game focuses on the idea and importance of starting the conversation around mental health in football.
The programme is a part of the UEFA Hat Trick funding for football and social responsibility and was developed in partnership with TAMHI (Tackling Awareness of Mental Health Issues), Inspire and Train 2B Smart Soccer.
As part of the programme the Irish FA Foundation and Sports Chaplaincy UK are working in partnership to support mental health throughout Northern Ireland.
Sports Chaplaincy UK work in partnership with sports governing bodies who recognise the need for quality pastoral and spiritual support and provide chaplaincy throughout sport. Through their partnership with the Irish Football Association they will be providing sports chaplaincy services across the country via the various regional hubs
Former Northern Ireland, Manchester United and Newcastle United star Keith Gillespie is an ambassador for the programme and shares his story of gambling addiction to help raise awareness of mental health issues and let people know its good to talk about their issues, "I would like Ahead of the Game to be the start of a conversation".
In 2019 the programme received its royal seal of approval when the Duke and Duchess of Cambridge got an opportunity to hear about the impact of the programme from clubs who have attended the workshop and have gone back to promote mental health awareness throughout their club and local community.
For any more information on Ahead of the Game or to book an Ahead of the Game workshop for your club please contact our Club and Community Development Officer Kyle Robinson at Kyle.Robinson@IrishFA.com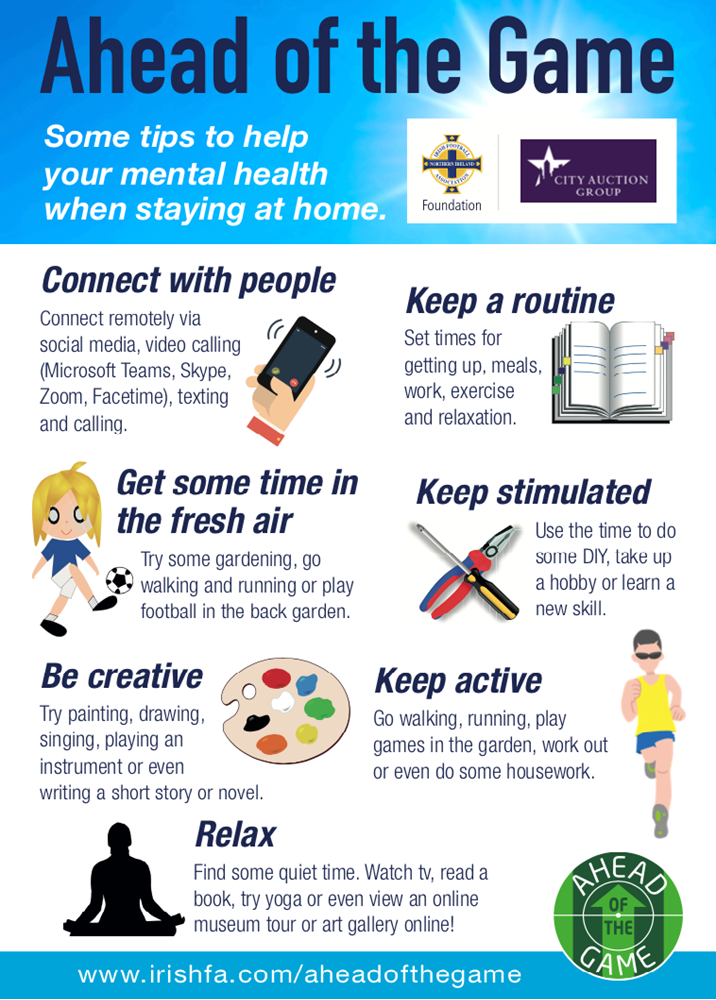 HSC: Directory of services to help improve mental health and emotional wellbeing