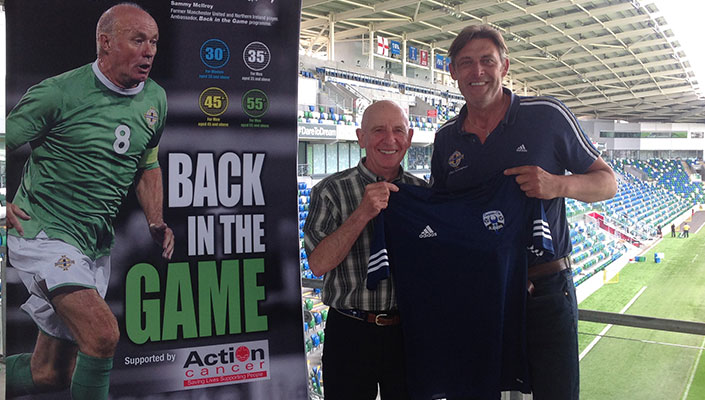 Back in the Game side Craigavon City Slickers were presented with their kit yesterday at the National Football Stadium at Windsor Park. 
Taking hold of their new Adidas kit from Malcolm Roberts was John Cochrane Snr, representative of Craigavon City Slickers.
The Back in the Game initiative aims to use football as a tool to provide long term opportunities for men and women of 35+, 45+ and 55+ years of age to re-engage with football in their local communities.
The programme is made up of a mixture of players who are still working and retired from employment.
To conclude the sessions, everyone meets in the upstairs lounge for tea/coffee and an opportunity to have a chat, make new friends, re-engage with old ones and discuss their footballing experience.
It is during this informal setting that people are given the opportunity to receive information on coach education and volunteering opportunities, social media training and also mental health awareness workshops.
The objectives are to increase physical activity and provide social opportunities to those who may feel vulnerable, isolated, are suffering from mental health issues, long term unemployed or socially deprived.
If you would like to become involved in the Back in the Game programme then please contact Malcolm Roberts at malcolm.roberts@irishfa.com or your local IFA Regional Grassroots Development Officer.
For further information on Craigavon City Slickers please contact Ken Duncan at ken.duncan@irishfa.com