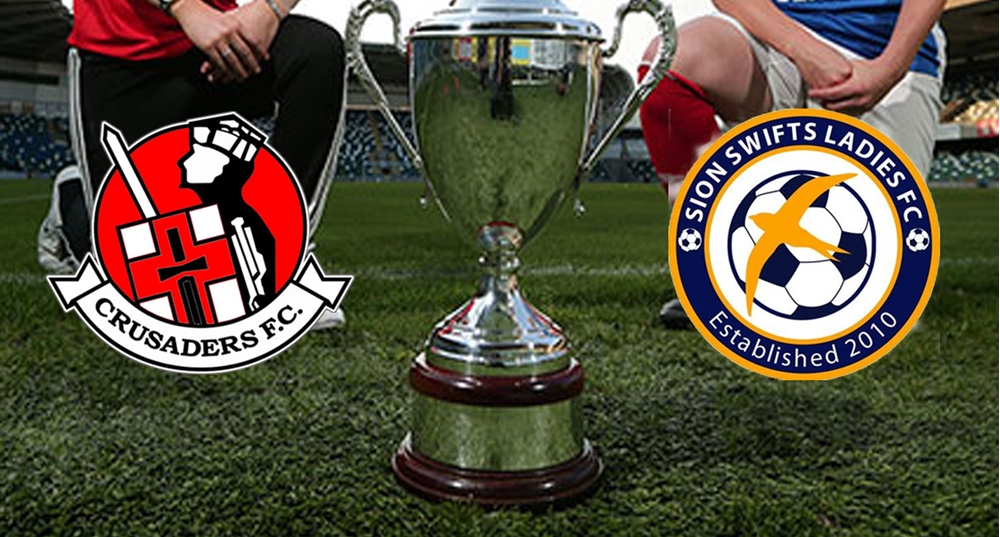 Sion Swifts Ladies are set to battle it out with Crusaders Strikers this evening (21 August) for a place in this season's Electric Ireland Women's Challenge Cup final.
Newry City Ladies have already secured a spot in the Women's Irish Cup decider after their semi-final opponents, Carnmoney Ladies, withdrew from the competition. The final is being played at the National Football Stadium at Windsor Park on 7 September.
Sion Swifts Ladies coach Tommy Canning is expecting a tough encounter at Stangmore Park in Dungannon later today (19.30 kick-off).
He said: "Having played in two league games against them this season already we know we are in for a very difficult evening, especially with their Under-19 international players returning from the recent U19 Euros.
"We respect Crusaders and look forward to another tough encounter with them. As for ourselves we will go into our fourth Irish Cup semi-final with the hope that the outcome will be different from previous attempts and that we can book a place in next month's final.
"We have a young team with a real hunger to achieve, and we have had a reasonable league campaign. We are fully prepared for the game against the Strikers and aim to play our part in what will hopefully be a positive advert for women's football."
Sion Swifts, who put out last year's cup winners Linfield in the first round of the competition before beating Cliftonville to secure their semi-final berth, will face a Crusaders Strikers side brimming with confidence. The Crues have scored 18 goals without reply in the cup campaign to date.
However, going by league form, Sion are slight favourites to reach the final. With two games left in the Danske Bank Premiership they are sitting third in the table on 20 points, behind Linfield Ladies (26) and Newry Ladies (25), while the Crues are fifth with 12 points. And Sion enjoyed a 4-0 league win over the Crues in June before drawing 1-1 with them last month.
Crusaders Strikers captain Julie Nelson said: "We are all looking forward to this Irish Cup semi-final against Sion Swifts after a four-week break in the domestic season.
"All the girls have been working hard on the training ground throughout this period and can't wait to get back on the pitch tonight.
"We are delighted to have our Northern Ireland U19 players back with us after their outstanding performances at the UEFA Women's U19 Euros and hope their tournament experience can help to boost the team's performance tonight."
Admission charges for this evening's game at Stangmore Park are £3 for adults and £1 concessions.