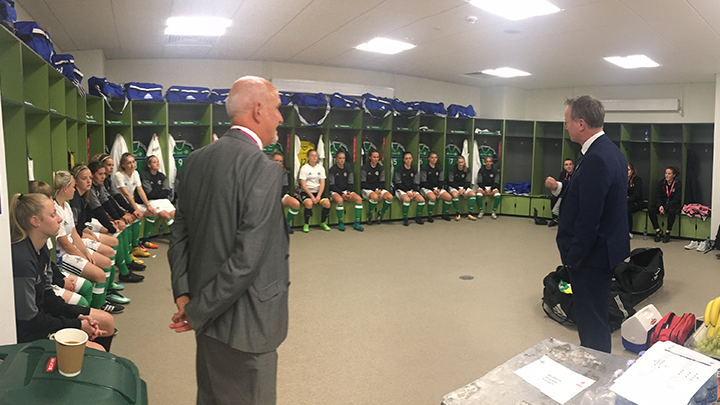 Michael O'Neill believes Northern Ireland's Women's Under-19 side have all to play for in their second group game in this year's UEFA Women's U19 Championship. 
The Northern Ireland senior men's manager is predicting it will be an open game when the Women's U19s take on near neighbours Scotland at Mourneview Park in Lurgan this evening (Friday 11 August).
He said: "There's a lot at stake. I watched both sides in their opening matches and they both produced good defensive displays. I think it will be more open in Lurgan and that should make for a very interesting game.
"Both teams will go into it believing they can win it and that they will have something to play for in their final group match. It should be a good game."
Northern Ireland lost 2-0 to Spain on Tuesday in their opening Group A encounter at the National Football Stadium at Windsor Park, while Scotland were beaten 3-0 by Germany at the same venue.
"Playing at the Euros is a big step for both countries. They will have been glad they got drawn in the same group as they will see it as a chance to get points on the board," he added.
The Edinburgh-based Northern Ireland manager believes Scotland will be well prepared for the 'derby' clash. He noted Scotland is ahead of Northern Ireland in terms of developing the women's game and the number of players being produced - and it has a good development pathway for players.
However, he also feels Alfie Wylie's Northern Ireland U19 team are more than capable of getting a result at Mourneview.
He further explained his eldest daughter Erin, who is developing as a player through the Scottish FA's regional girls' football programme, will have mixed emotions while watching the game. On Tuesday she supported both countries in their respective opening matches in Group A. "I think she will have a foot in both camps," he quipped.
The Northern Ireland boss also revealed he is friends with Gareth Evans, the manager of the Scotland Women's U19 side. 
The pair played together at Hibernian for three seasons and then Evans became his assistant for nearly two years when Michael began his managerial career at Brechin City in Scotland.
Naturally, Michael wants to see his pal do well – but not against Northern Ireland.
Tickets for the game in Lurgan this evening (KO 7pm) are on sale via the Ticketmaster website here, while the full list of fixtures and further information is available by clicking here

You can watch the match live via the bbd website by clicking here