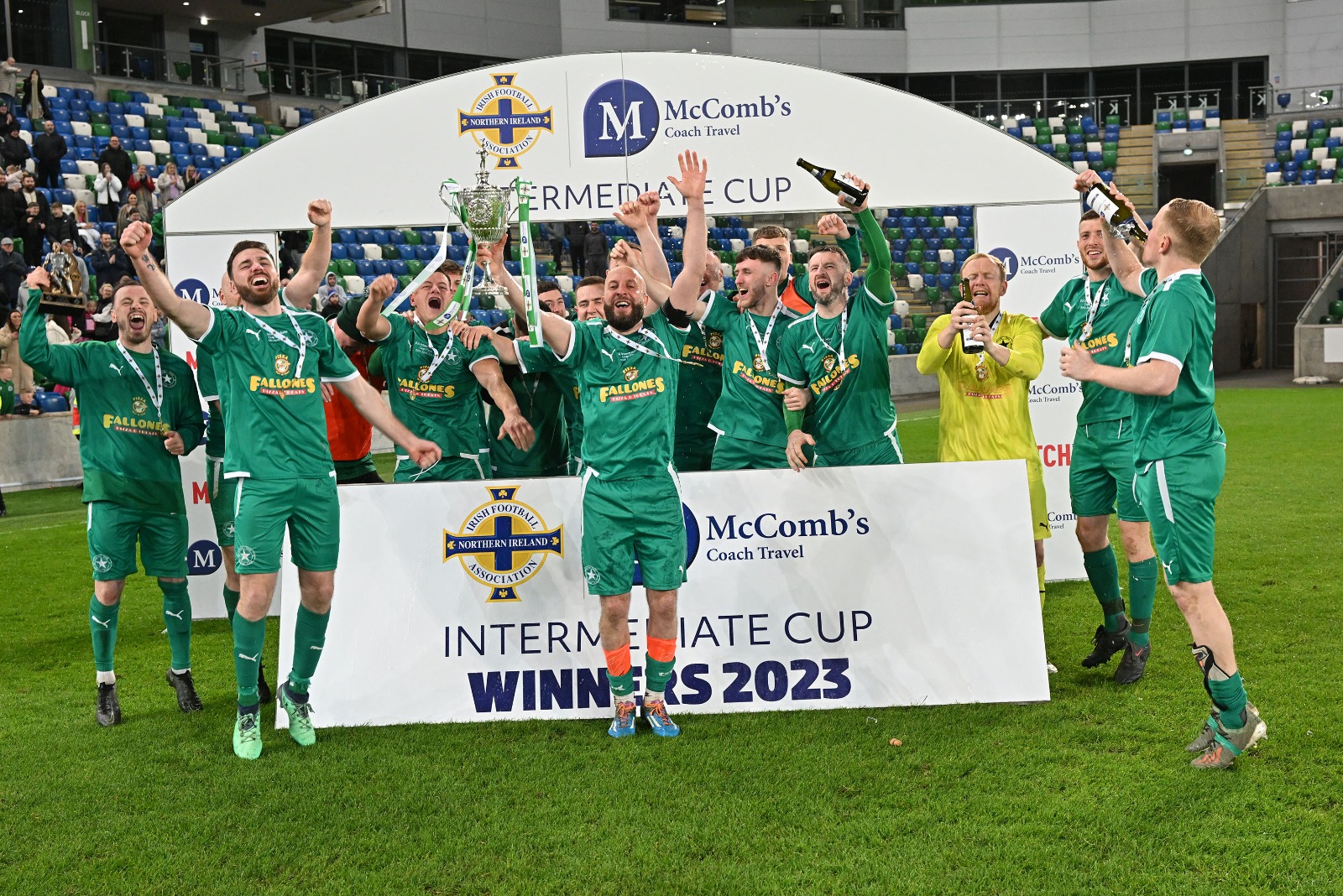 First contested in 1892, the Irish FA Intermediate Cup is Northern Ireland's premier competition for clubs of intermediate status.

Linfield Swifts are the most successful side in the competition, having won it 11 times, most recently in 2003-04, with Dundela following closely behind with ten victories.

Current holders Crumlin Star defeated St Oliver Plunkett 3-2 in the 2023 final at the National Football Stadium at Windsor Park.


Previous winners over the past ten seasons have also included:-
2021/22 - Rathfriland Rangers
2019/20 - Dollingstown
2018/19 - Crumlin Star
2017/18 - Queen's University
2016/17 - Limavady United
2015/16 - Institute
2014/15 - Carrick Rangers
2013/14 - Bangor
2012/13 - Institute
2011/12 - Newry City 
Third Round
v
P
P
AET ({{fixture.homePenaltyScore}} - {{fixture.awayPenaltyScore}}) penalties
{{fixture.compName}} {{getType(fixture)}}
{{fixture.dateFormatted2}}, {{fixture.timeFormatted}} Kick Off Time TBC at {{fixture.stadium}}
Second Round
v
P
P
AET ({{fixture.homePenaltyScore}} - {{fixture.awayPenaltyScore}}) penalties
{{fixture.compName}} {{getType(fixture)}}
{{fixture.dateFormatted2}}, {{fixture.timeFormatted}} Kick Off Time TBC at {{fixture.stadium}}
First Round
v
P
P
AET ({{fixture.homePenaltyScore}} - {{fixture.awayPenaltyScore}}) penalties
{{fixture.compName}} {{getType(fixture)}}
{{fixture.dateFormatted2}}, {{fixture.timeFormatted}} Kick Off Time TBC at {{fixture.stadium}}
Notes: Killyleagh YC v. Coagh United - Killyleagh YC withdrew, Coagh United progress to R2

Newtowne v. Crumlin United - Newtowne withdrew, Crumlin United progress to R2

Ballymacash Rangers v. Chimney Corner - Chimney Corner withdrew, Ballymacash Rangers progress to R2

Abbey Villa v. Ballynure OB - Ballynure OB withdrew, Abbey Villa progress to R2

Byes: Aquinas, Bourneview Mill, Coleraine Reserves, Laurelvale, Queen's University, St. Mary's YC, Strabane Athletic, Warrenpoint Town, Windmill Star