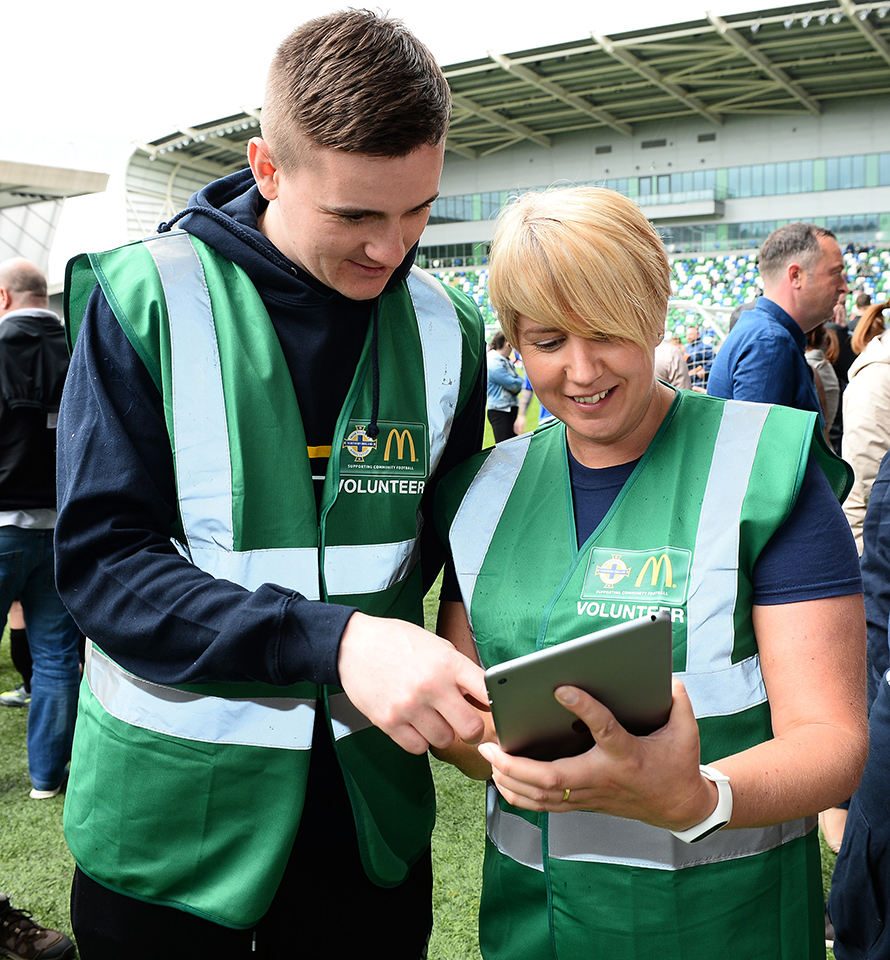 The Irish FA provide a wide range of bespoke opportunities for volunteers to engage in both football related and community based activities.
The Irish FA Volunteer Events Team
The IFA Volunteer Team was established in 2014 to provide mutually beneficial volunteer opportunities across the Irish FA. As an Irish FA Volunteer Team member you can join a central database of volunteers and be provided with regular volunteering opportunities as and when they are developed.
We offer the opportunity to be an accessibility volunteer. This role is specific to assisting disabled people during international fixtures to enhance their spectating experience. This assistance may include way-finding support, or mobility and communication assistance.
You will be invited to an official Irish FA volunteer induction where we will try to match you with available volunteer opportunities depending upon your experience, location and interests.
This role is primarily for assisting International games and other events delivered by the Irish FA.
Grassroots Leaders
The Irish FA Foundation Grassroots Leader role is designed to help assist and develop grassroots football. The Grassroots Leader will operate within each council area and play a pivotal role in the new Irish FA Let Them Play Hubs across Northern Ireland.  Please complete the application form below in the downloads return to volunteering@irishfa.com
The role is designed to :
Provide support to the clubs with our Club Accreditation system ,Goldmark, Volunteer development events and general club development queries.
Build a volunteer team within each area to help assist club community days and other events.
Deliver workshops around Club and Volunteer development including our new mental health programme "Ahead of the Game".
The Irish FA Foundation also has a Young Leaders Programme for 18- 24 year olds. For more information please visit: