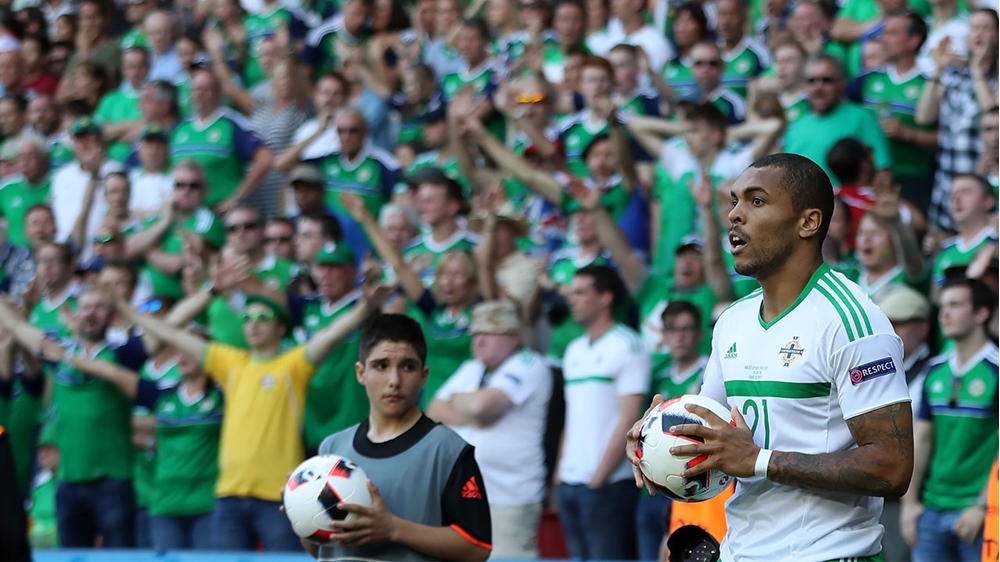 Three of Northern Ireland's games at Euro 2016 were among the top five most-watched TV programmes in Northern Ireland last year.
Ofcom's annual Communications Market Report has revealed the Round of 16 game against Wales was number two in the Top 20 programmes in the country in 2016 with an average of 447,000 viewers.
And third on the most-watched list was the Northern Ireland game against Germany with 427,000 viewers.
Completing the top five were the 399,000 who tuned in to watch Michael O'Neill's side in action against Poland in what was their first ever game at a European Championship Finals – and their first appearance at a major tournament in 30 years.
All three games were shown on BBC One, as was the sixth most-watched programme, the Post Match Show following the Round of 16 game in Paris (391,000 viewers).
The report from the UK's communications regulator further revealed the Wales v Northern Ireland match attracted the biggest audience share of any programme shown on TV here in 2016 – at 76.4%.
And the Germany game was a close second with a 69.9% audience share, followed by the post-match analysis of the Wales game (67%) and the Poland game (64%).
Topping the most-watched list in Northern Ireland was an episode of The Secret on ITV (490,000), while I'm A Celebrity – Get Me Out Of Here (ITV) was fourth with 404,000 viewers.
Viewing figures for Northern Ireland's historic Euro 2016 win against Ukraine - it was shown on UTV/ITV - have not been included in the Ofcom publication.
Ofcom's annual Communications Market Report for Northern Ireland gives an overview of the region's communications markets, examining availability, take-up and consumption of telecommunications, broadcasting, internet and postal services, and comparing the findings with the other nations and with the UK as a whole.
To view the full report go to ofcom.org.uk.