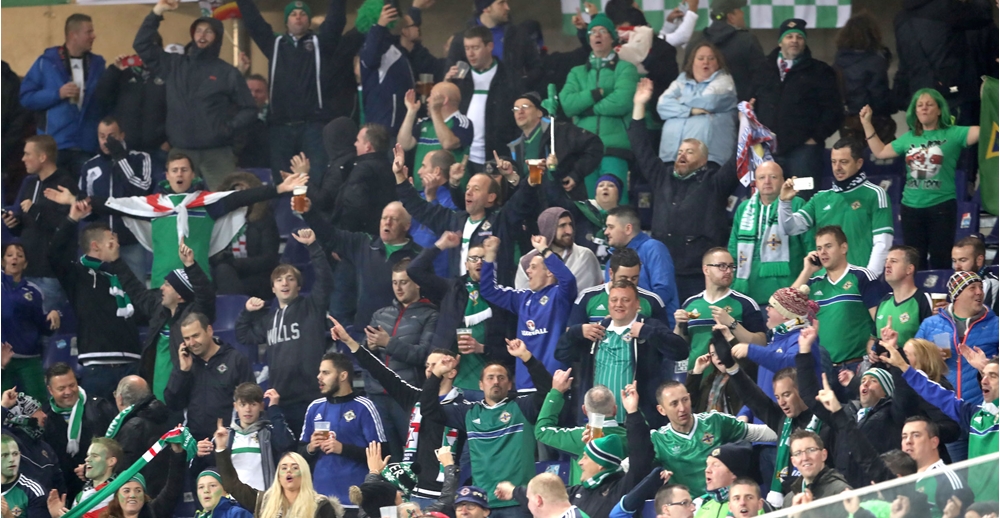 The Irish FA is committed to improving your fan experience. Whether you're a campaign card holder, an official member, a supporter who makes it to a few games a year or a fan from abroad whose interaction is through this website, your input matters.
Improvements have already been made as a result of supporter feedback and some are listed below. Should you have any feedback or comments in relation to your fan experience please email fanexperience@irishfa.com
Ensuring all needs of our supporters are met 
A room in the Staffline Family Stand operated as a Quiet Room on a trial basis for a number of fixtures throughout 2019. This room will provide supporters who have specific needs to enjoy the game in an environment that is suitable for them and away from busier areas of the stadium.
A number of seats will be made available for supporters who are deaf or have impaired hearing. For the first time, in November 2018, stadium announcements were signed and shown on the big screen and this is something which we will continue to deliver and develop throughout 2019. 
A number of seats are available for those who are visually impaired. With the redevelopment of the stadium, the introduction of match commentary headsets supplied by SoccerSight have ensured that those who are visually impaired can enjoy the fixture. This is something which we will continue to provide and improve on.
We will continue to provide tickets for those with mobility needs, both for wheelchair users and non-wheelchair users. The accessibility ticket request form has been updated in November 2018 to ensure that supporters applying for fixtures can state which type of accessible ticket is required. 
Campaign Card holders and Official Members have requested more regular exclusive content sent directly to them 
Both Campaign Card holders and Official Members now receive weekly communication directly to their inbox. This communication is sent on a Thursday.
Supporters attending away fixtures requested more flexibility for collecting tickets for away fixtures
We have committed to a minimum of five days of collections as well as one late evening collection. We will also commit to informing those who have purchased tickets of their collection information as early as possible.
Feedback from supporters who attended fixtures in the Billy Bingham Lounge offered feedback regarding a need for pre-match entertainment within the Lounge  
In November 2018, pre-match entertainment was introduced and well received in the Billy Bingham Lounge in the form of a local guitarist. We are continuing to look at a variety of options for this Lounge in order to continually improve the offering. 
Supporters attending as families have expressed the need for private breastfeeding facilities, baby changing facilities and pram storage facilities
For the UEFA Euro 2020 Qualifiers in 2019, a room will be made available in the East Stand to allow for anyone who wishes to avail of breastfeeding in privacy. A pram storage facility will be available in Grafton Family Stand for those who apply for this facility in advance by emailing fanexperience@irishfa.com. Bathrooms in the Grafton Family Stand and South Stand have now been equipped with baby changing facilities. 
We also allow for babes in arms to access the stadium without a match ticket and free of charge. Babes in arms are classed as those under two years old. We highly recommend that the East Stand only should be used for babes in arms.
Campaign Card holders have said that they are unsure how to access their account manager and make changes to the online account.
All lead bookers have received two video step-by-step guides on how to log into their account manager, the features that it has and how to print tickets at home.