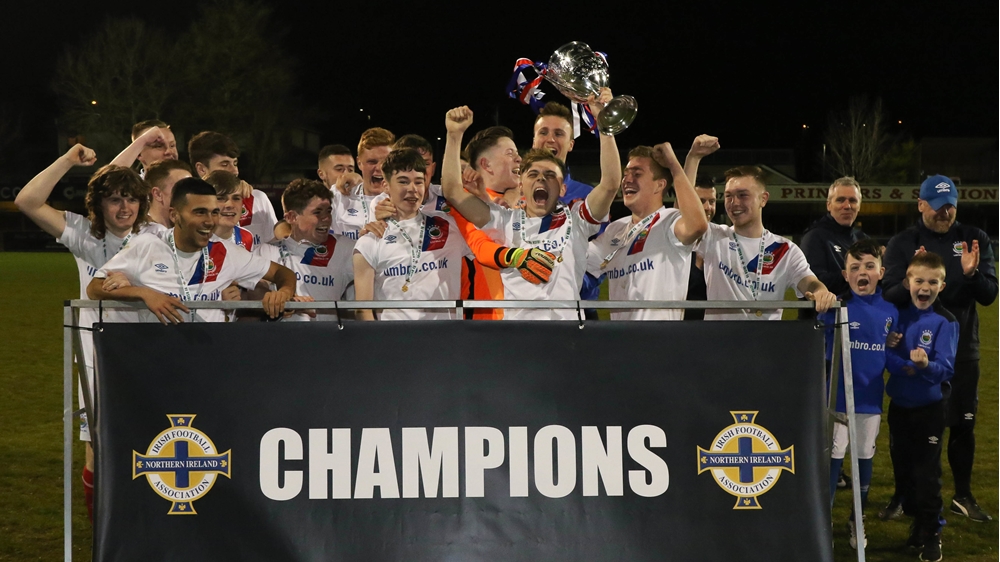 A goal in each half from Adam Carroll and another from Eamon Scannell saw Linfield Rangers crowned as Harry Cavan Youth Cup winners 2017 at Stangmore Park thanks to a 3-0 victory over Ballinamallard United Thirds.
Carroll almost scored in the third minute but was denied by a good save from Mallards keeper Gary Doherty. After that it was very much cat and mouse, Ballinamallard compact, sitting deep, looking for the counter while Linfield patiently built from the back.
On 26 minutes Pablo Andrade's corner almost sneaked in but Doherty made the save. Seven minutes later Linfield got the breakthrough when Carroll rose to head in a free-kick.
Linfield almost netted another in a goalmouth scramble six minutes before half-time, and right on the whistle Ballinamallard's Kyle Coalter headed wide.
Just six minutes after the break Linfield put one hand firmly on the trophy when Ballinamallard failed to clear and Carroll ran forward to fire a shot through a mass of players and in.
On 54 minutes it was game up for Ballinamallard when Scannell placed a low shot into the bottom corner from just outside the 18-yard box.
Ballinamallard had to change tactics if they were to mount any sort of comeback and they played a lot better for the remainder of the half, testing Linfield goalkeeper Alex Moore on a couple of occasions without any real likelihood of a comeback though.
While Linfield were deserved winners on the night, credit to both teams though for a competitive and sporting match - not one booking throughout the game.
The competition so far
Final
v
P
P
AET ({{fixture.homePenaltyScore}} - {{fixture.awayPenaltyScore}}) penalties
{{fixture.compName}} {{getType(fixture)}}
{{fixture.dateFormatted2}}, {{fixture.timeFormatted}} at {{fixture.stadium}}
Semi-finals
v
P
P
AET ({{fixture.homePenaltyScore}} - {{fixture.awayPenaltyScore}}) penalties
{{fixture.compName}} {{getType(fixture)}}
{{fixture.dateFormatted2}}, {{fixture.timeFormatted}} at {{fixture.stadium}}
Quarter-finals
v
P
P
AET ({{fixture.homePenaltyScore}} - {{fixture.awayPenaltyScore}}) penalties
{{fixture.compName}} {{getType(fixture)}}
{{fixture.dateFormatted2}}, {{fixture.timeFormatted}} at {{fixture.stadium}}
Second Round
Second Round
v
P
P
AET ({{fixture.homePenaltyScore}} - {{fixture.awayPenaltyScore}}) penalties
{{fixture.compName}} {{getType(fixture)}}
{{fixture.dateFormatted2}}, {{fixture.timeFormatted}} at {{fixture.stadium}}
First Round
v
P
P
AET ({{fixture.homePenaltyScore}} - {{fixture.awayPenaltyScore}}) penalties
{{fixture.compName}} {{getType(fixture)}}
{{fixture.dateFormatted2}}, {{fixture.timeFormatted}} at {{fixture.stadium}}