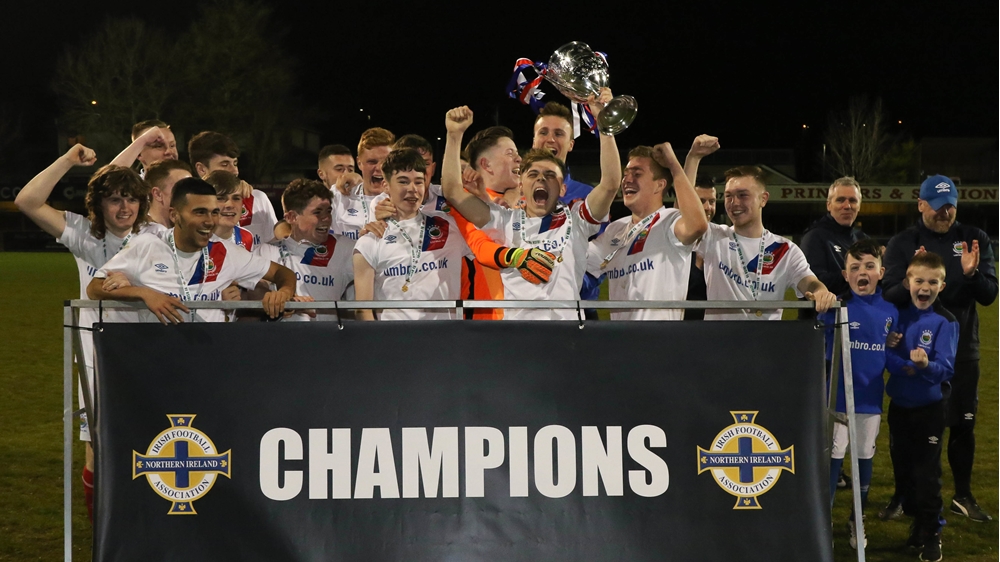 First contested in 1952, the Harry Cavan Youth Cup is Northern Ireland's premier competition for U19 clubs and players.

Named after the former Irish FA and FIFA Senior Vice-President, current holders Linfield Rangers defeated Cliftonville Strollers 2-0 at Windsor Park to lift the trophy for the 17th time.

Previous winners over the past ten seasons have also included:-
2016/17 - Linfield Rangers
2015/16 - Crusaders Colts
2014/15 - Glenavon III
2013/14 - Portadown III
2012/13 - Linfield Rangers
2011/12 - Armagh City Youth
2010/11 - Glenavon III
2009/10 - Linfield Rangers
2008/09 - Ballymena United III
2007/08 - Lisburn Rangers III

Linfield Rangers meet St. Oliver Plunkett in the 2018/19 Harry Cavan Youth Cup final on Monday, 6th May, 2019 at the National Football Stadium at Windsor Park, kick-off 7:30pm.
Click on the tabs below to view the results and fixtures so far.
Final
v
P
P
AET ({{fixture.homePenaltyScore}} - {{fixture.awayPenaltyScore}}) penalties
{{fixture.compName}} {{getType(fixture)}}
{{fixture.dateFormatted2}}, {{fixture.timeFormatted}} at {{fixture.stadium}}
Semi-finals
v
P
P
AET ({{fixture.homePenaltyScore}} - {{fixture.awayPenaltyScore}}) penalties
{{fixture.compName}} {{getType(fixture)}}
{{fixture.dateFormatted2}}, {{fixture.timeFormatted}} at {{fixture.stadium}}
Quarter-finals
v
P
P
AET ({{fixture.homePenaltyScore}} - {{fixture.awayPenaltyScore}}) penalties
{{fixture.compName}} {{getType(fixture)}}
{{fixture.dateFormatted2}}, {{fixture.timeFormatted}} at {{fixture.stadium}}
Second Round
v
P
P
AET ({{fixture.homePenaltyScore}} - {{fixture.awayPenaltyScore}}) penalties
{{fixture.compName}} {{getType(fixture)}}
{{fixture.dateFormatted2}}, {{fixture.timeFormatted}} at {{fixture.stadium}}
First Round
v
P
P
AET ({{fixture.homePenaltyScore}} - {{fixture.awayPenaltyScore}}) penalties
{{fixture.compName}} {{getType(fixture)}}
{{fixture.dateFormatted2}}, {{fixture.timeFormatted}} at {{fixture.stadium}}