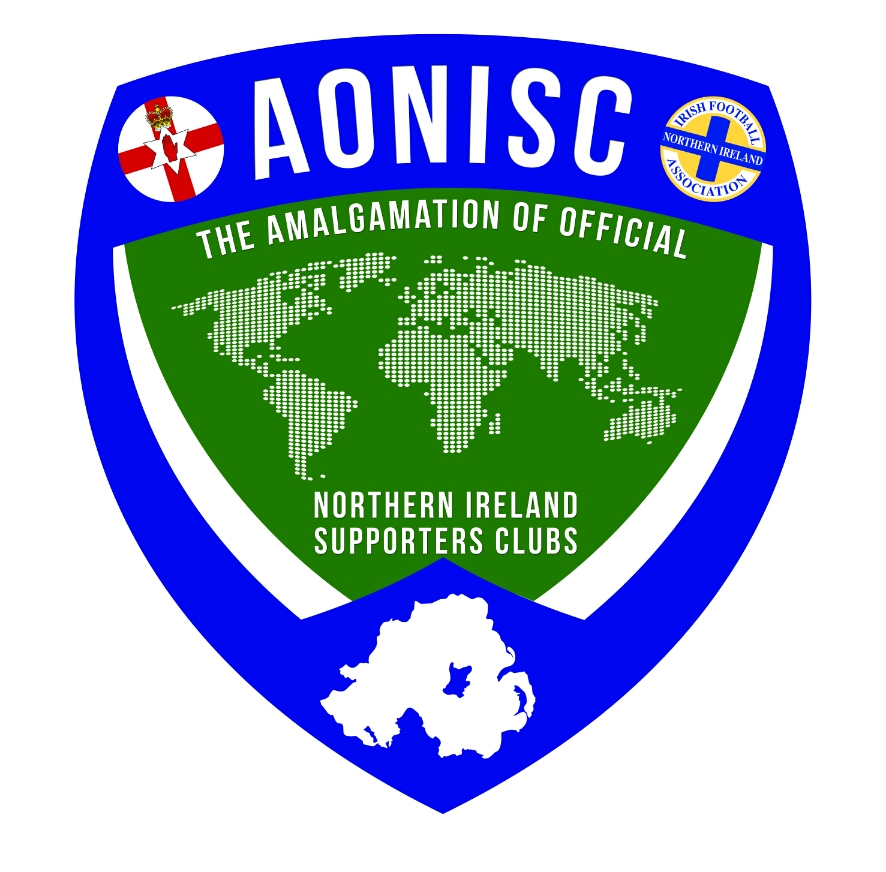 HOW CAN I BECOME A MEMBER OF THE AONISC?
The Amalgamation welcomes applications from Supporters' Clubs throughout the year, however we only admit new Member Clubs twice a year (at our AGM in January and at our Late Summer meeting in August/September) You need to have in place a Committee or Office Bearers, a Constitution and a Bank Account. Help and advice can be given with this, if needed.
To apply, send an email to aonisc.secretary@yahoo.com
HOW OFTEN DOES THE AONISC MEET?
The Amalgamation usually meets four times per year - in January, March, August/September and November and Member Clubs are expected to attend.
WHERE ARE MEETINGS HELD?
The first and last meetings of the year are held in Greater Belfast, the March meeting takes place in Cookstown and the Late Summer meeting is hosted each year by a different Club outside Belfast.
HOW MUCH DOES MEMBERSHIP COST?
Clubs are asked to pay a very reasonable £20 per year for membership
WHY JOIN?
Formed in 1998, the Amalgamation has been officially recognised by the Irish Football Association for almost twenty years as the organised body of Northern Ireland supporters.
We meet and communicate regularly with the IFA on a range of issues throughout the year, by becoming involved with our organisation you have an opportunity to receive information and to have an input on supporters' issues.
We're a member of Football Supporters' Europe, an umbrella group with members across the Continent and hosted the European Fans' Congress in July 2015. FSE is officially recognised by UEFA and we are represented on the FSE Committee.
The Amalgamation has volunteered our time and efforts for many years around Northern Ireland away games, working with the IFA, PSNI, Foreign and Commonwealth Office and the UK Football Policing Unit as well as the authorities in the various host countries to help make away trips as safe and enjoyable as possible for travelling fans.
We organised and operate the first 'official' Northern Ireland Fans' Embassy at Euro 2016. We're widely recognised for the role we've played in lobbying and raising awareness on a range of issues and while we've never claimed to speak for everyone, we'll continue to work in the very best interests of Northern Ireland supporters.
All of our work is carried out an entirely voluntary basis.
I'M NOT A MEMBER OF A CLUB, BUT I'D LIKE TO JOIN ONE?
We have Clubs located throughout Northern Ireland, in England, Scotland, Australia, Canada and the USA. Most Clubs welcome new members, if you would like to join an AONISC Member Club, then send an email to aonisc@yahoo.co.uk
HOW CAN I GET IN TOUCH?
We're on Facebook, Twitter, and our website is www.aonisc.co.uk. 
We operate a Mobile Network during the course of away international trips (usually over the course of three days around each match) which serves as a point of contact for issues such as lost Passports. The number is +447943542100