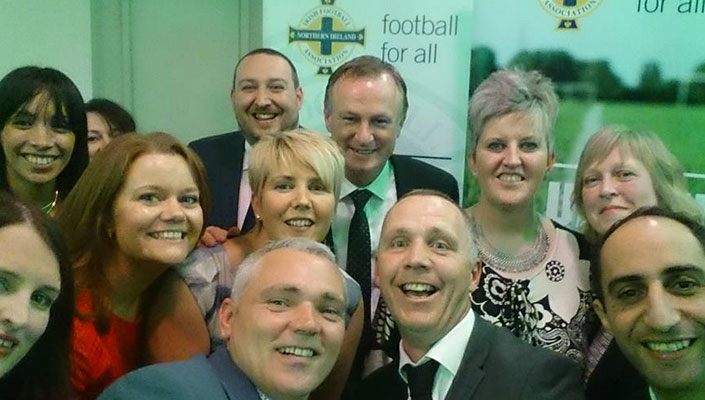 This month the volunteer focus spotlight shines on Shona Pryde who has volunteered across a number of Irish FA events and programmes.
How did you get involved within the IFA volunteer team?  
My friend tagged me in a post on social media looking for volunteers to support the Euro Qualifying campaign. I submitted an application then was invited to an induction session. I haven't looked back since! I've always been involved in volunteering and love new challenges; maybe I had an inkling that the Euros were going to be a massively exciting adventure!
What made you want to volunteer?
Northern Ireland is really putting itself on the world sporting map. I'd volunteered with big events like the World Police Fire Games and the Giro d'Italia. Volunteering in sport is always all about team work and friendly faces. I wanted to be part of something like that, where people share their passion for sport, on a more regular basis. 
Tell us about your volunteer role...
I love football but can't really kick a ball to save myself, so I've been involved helping out with activities like the Fanzones before International matches, matchday rehearsals welcoming fans to the ground, and interacting with fans of all ages at the Football Village at the Titanic Maritime festival.
Has volunteering helped you in a personal or professional level? 
Definitely both. I work full time as a physiotherapist with people with disabilities and volunteering enables me to practice what I preach about being active within your local community. Active doesn't necessarily have to mean playing sport, volunteering and being part of a team and a wider community of fans is great for mental as well as physical health. It's really interesting to find out how many projects the IFA are involved in at all levels of the game too, especially at grassroots level. There are always plenty of laughs and it's always really rewarding for me at the end of a volunteer shift to know I've helped make other people smile too. I always get a big sense of achievement helping pack up and knowing I've played a part in a day that's ran smoothly. 
What have you learned from volunteering?
I've learned how passionate, friendly and diverse the Green and White Army are! I've also developed my skills in working with and communicating with others, made new friends and had a lot of fun.
What has been your most enjoyable volunteer experience?
Definitely the Football Village at the Maritime Festival just before the Euros started. We were handing out t-shirts and thought it would be fun to get people in the mood by singing football songs, or songs in French to earn their t-shirts. We were inundated with all ages of people from all sorts of backgrounds really keen to have their turn. It was such good fun. 
In one sentence, why should people volunteer within the IFA team?
Whether you are sporty or not, volunteering is a great, fun and rewarding way to get involved in football and to bring out the best in yourself.