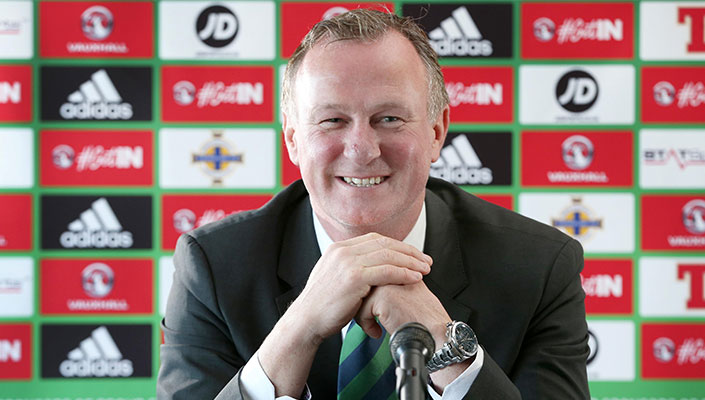 Manager Michael O'Neill wants the spirit of the Euro2016 qualifying campaign to be on show as he prepares for the first home 2018 FIFA World Cup qualifier.
Northern Ireland face San Marino on 8th October at the National Football Stadium at Windsor Park and then travel to Germany to face the side they lost 1-0 to at Euro2016 on 11th October.
San Marino come to Belfast with O'Neill wanting to recreate the atmosphere from the Euro qualifiers and therefore wants to begin their home qualifiers with three points: "The San Marino game is key for us obviously.
"In the last campaign we took 11 points here and were unbeaten so we want to have that sort of campaign again here. San Marino offers us an opportunity for three points but it will not be an easy game, I don't think anywhere in International football you can just turn up and win the game easily. The key is to do everything possible to win that game."
His side will then face World Champions Germany and doesn't think coming away with something is out of the question, he said: "Anything we take in Germany will be a bonus. Playing away to Germany in International football is the equivalent to playing Barcelona at club football, it's as difficult as that.
"It's going to be a hugely difficult game for us, a huge test for us but we've seen countries go there in the past and manage to get away with a point."
On the squad selection, striker Will Grigg made himself unavailable due to personal reasons which O'Neill explained. He said: "Will and his partner had a baby 10 days ago and for personal reasons asked could he be excused.
"I don't want to go into it too much but he just felt that it's been difficult recently in terms of at club level maintaining his fitness and thought being away from his family wasn't the right thing to do."
"He's been on the scoresheet regularly and it is a blow. The players were informed two weeks ago and he wanted to leave it as late as possible so he could come and be part of it and he recognises this is possibility his best chance in a while to start but he didn't feel it was the right thing to do. I'm not going to make him come. I have an understanding of his situation."