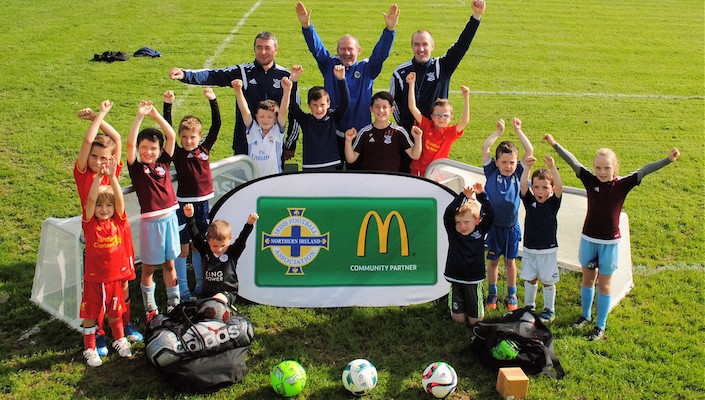 The Irish FA grassroots team has shown its appreciation to Strangford FC with a presentation of equipment for both its summer camp and current development.
Strangford FC is currently completing its Irish FA McDonald's 'Foundation Club Mark Portfolio' through the Irish FA's club development programme and its commitment to the community is already proving successful with teams at U6, U8 and U10 ready to play small-sided-games.
Head of youth Francis Black is delighted with the club's progression so far.
Francis commented; "Saturday mornings in Strangford is where the development is happening.
"We have a group of volunteers who are giving up their time and their patience is fantastic as we develop our future players. With our partnership with the Irish FA through our summer camp and development programme we are already making great strides in youth development."
Local Irish FA Regional Grassroots Development Officer Seamus Heath is currently working along side Strangford FC's youth coaches.
He said: "To witness their progress over the last year is just incredible and testament to what can be achieved through a vision, plan and implementation of a strategy."
Irish FA Football Development Manager Ian Stewart is committed to assisting good practise clubs.
The former international commented: "To have nearly 100 young players, including 20 girls at their camp tells it's own story. We will follow their journey and are at hand with any advise or help that they may require.
"Our token of appreciation through equipment support is hopefully only the start."