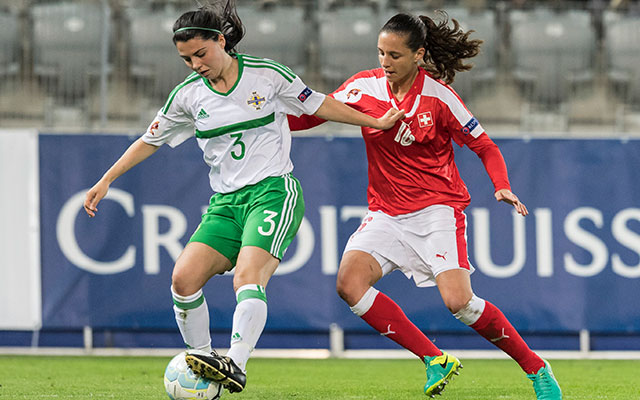 Northern Ireland Women lost 4-0 in Biel-Bienne in their final qualifying game to a Switzerland side which went through the entire qualifying campaign undefeated. Missing several first choice players through injury and unavailabilty Alfie Wylie's side put up a spirited showing.
Nineteen year old Jessica Poots made her debut in goal and showed some assured handling in the opening minutes.
The first half chance of the game fell to Laura Rafferty who snatched at an effort and sent it off target. The Swiss had their first effort minutes later but that also went wide.
Despite having the bulk of possession the home side failed to threaten until the 17th minute when Venessa Bernauer fired an unstoppable effort into the roof of the net from 25 yards.
Northern Ireland came back and Marrisa Callaghan saw her volley saved by home keeper Thalmann ten minutes before the interval. Minutes later Lauren Brennan fired a shot against the crossbar following good play down the right.
The home side extended their lead just before the interval when Kiwic headed home a free kick.
The game was put beyond the reach of the Northern Ireland girls at the start of the second half. Thirty seconds in Bernauer scored her second with an excellent chip from the edge of the box. Poots then made an excellent save tipping an effort onto the crossbar before Rachel Rinaset drilled the ball home from 22 yards giving Poots no chance.
Northern Ireland threatened midway through the half as Marissa Callaghan had an effort saved by Thalmann in the home goal.
The home side had most of the ball but the Northern Ireland side lead superbly by captain Marissa Callaghan and with the defence well marshalled at the back by Julie Nelson and Ashley Hutton and with tireless work up front by Lauren Brennan remained disciplined to the end against an excellent Switzerland side which will be a force to reckon with in the Finals.
Photo credit: (KEYSTONE/Alessandro della Valle)