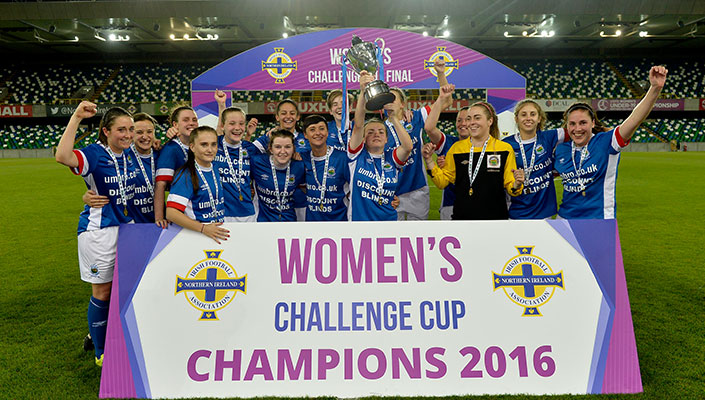 Linfield Ladies were crowned the 2016 Women's Irish Cup Champions after a 2-1 win against Cliftonville Ladies at the National Football Stadium at Windsor Park. 
A first half goal from Northern Ireland winger Kirsty McGuinness and a goal deep in stoppage time from Abbie Magee gave The Blues their second piece of silverware this season to go along with their league title.
Cliftonville captain Marissa Callaghan had levelled proceedings with a curling free kick but it wasn't to be enough to stop Linfield claiming a league and cup double. 
McGuinness was a constant threat throughout the night and after 10 minutes was already showing it as her cross found Megan Bell but the effort was blocked just inside the area.
Cliftonville responded well and on 15 minutes, Marissa Callaghan picked out an unmarked Chelsey Edwards but she shot over from 10 yards as did Linfield's McGuiness just moments later. 
The Reds would have the first shot on target after 23 minutes as Nikita O'Neill tested Linfield keeper Nicole Adams who pushed it away for a corner. 
Moments later McGuiness proved the outlet once again for Linfield but she was unable to finish her run off as the effort sailed wide but she wouldn't be stopped on her next attempt. 
A ball from inside their own half looped over the Cliftonville defence and left McGuinness one on one with Tiarna McKenna who was easily rounded to put Linfield Ladies ahead. 
To close out the half, Callaghan broke forward from defence but her shot rose over the Linfield goal to keep it 1-0 at half time.  
McGuinness continued to be a thorn for the Cliftonville defence as she ran through and was brought down just outside the area but the resulting free kick didn't trouble McKenna.
Cliftonville number seven Leah McEvoy had the next chance but she could only shoot straight at Adams in the Linfield goal but The Reds would make their break through.
Captain Callaghan had an effort from the right side of the pitch which lobbed over Adams in the Linfield goal. In her bravery to try and keep out the effort, Adams was injured and taken off on a stretcher. 
The substitute keeper was called into action straight away as fellow substitute Kiera Moss ran through but she could only guide it wide. 
Again it was McGuinness who was the threat for Linfield and her spectulative effort from 30 yards beat McKenna but not the cross bar. Lyndsay Corry found inspiration from this and tried the same a few minutes later but this time the Cliftonville keeper tipped it over to keep the scores level. 
Linfield continued to threaten as the game went into seven minutes of added on time and it would be McGuinness who was involved in clinching the 2016 Women's Irish Cup.
Her run down the left gave her space to cross into Abbie Magee who had time to finish low into the bottom corner and sink Cliftonville hearts.  
Linfield Ladies: Adams, Myles, Haddock, McDade, Robson, Venney, Corry, McGuinness, Ennis, Bell, Magee. Subs: Doran, Burrows, McFrederick, McDaniel, Timoney.
Cliftonville Ladies: McKenna, McCarthy, Moore, Moran, Curtis, O'Neill, McEvoy, Edwards, McVarnock, Quigley, Callaghan. Subs: Lewsley, Moss, Canavan, Da Silva, White.