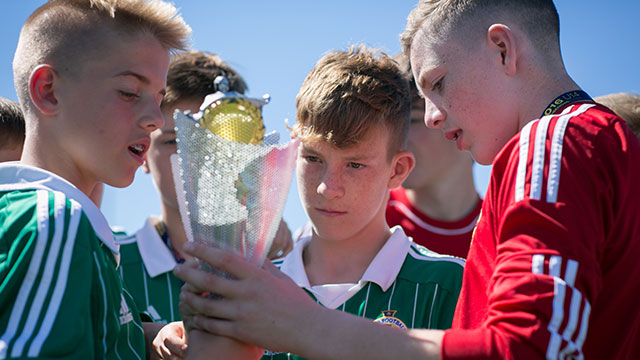 They may not have won the tournament but Club NI's U14s registered several impressive results in this year's Madrid Cup.
The 2003 players on the Irish FA's elite development programme played seven games at the international tournament in Spain over the weekend and only suffered one defeat.
And on their way to finishing 13th overall out of 24 teams they defeated top French side Paris Saint-Germain and drew against Spanish giants Atletico Madrid and Japan's U14s.
The list of participants included teams from leading European clubs as well as teams from around the world.
In the group stages Club NI took on Atletico Madrid, Japan FA U14s, Russian outfit Krasnodar, Brondby from Denmark and Spanish side Leganes.
In their opening game they drew 0-0 with Krasnodar. It was a very tight affair against a physical side. Club NI had the lion's share of possession and had a goal controversially disallowed, and they also missed a late penalty. Ultimately the players were disappointed at not taking all three points.
Their only defeat at the ARC Madrid Football Cup, which was staged at Alcobendas in the Spanish capital, came against Brondby in their second group game.
They were in total control against the Danes, but against the run of play they conceded two goals in a two-minute spell in the first half. Club NI then missed numerous chances as they tried to get back into the game. The players' disappointment was palpable at the final whistle. 
The mighty Atletico Madrid were their third opponents. Club NI raced in to an early lead thanks to a fantastic finish from Charlie Allen. The U14s played extremely well against their illustrious opponents but a breathtaking counter attack from Madrid drew the home side level. Overall it was a good performance and a good point.
Next up were Japan U14s. After conceding a poor goal in the opening minutes of the game against an outstanding team, they responded brilliantly in the second half and a last minute goal from Ross McCausland made it three draws from four games.
They were due to meet Egyptian side Nogoom El Mostakbal in their final group game but they had to pull out of the tournament and were replaced by Spanish side Leganes. 
And Club NI produced an excellent performance against their La Liga opposition, winning 3-0. Ross McCausland scored two very good goals in the first half and a penalty after the break, converted by Matthew Lusty, sealed an impressive win.
Club NI finished fourth in their group but arguably should have been higher up the table.
However, their tournament was not over as they played further games to determine their overall ranking between 13th and 16th. 
St Joseph's from Dublin were their next opponents. Club NI dominated the game and the North v South battle was won with a goal from Caolan McBride.
That win secured a play-off game against French giants Paris Saint-Germain. Club NI totally dominated the game and deservedly won it with a fantastic goal from Euan Williams.
The Northern Ireland boys were naturally ecstatic at finishing off the tournament with a magnificent victory against one of the biggest clubs in the world.
Declan Devine, the team's head coach, and assistant coach Marty McCann were delighted with the U14 team's performances. The team got stronger as the tournament progressed and both coaches were pleased at how well they acquitted themselves against quality opposition. 
The Club NI squad for the U14 Madrid Cup featured: Oisin Gibson, Charles Anderson, Conner Byrne, Joshua Archer, Orrin McLaughlin, Caolan McBride, Aaron Donnelly, Matthew Lusty, Charlie Allen, Terry Devlin, Lewis Mackinnon, Ross McCausland, Liam Toman, Reece Byrne, Sean McAlister, Conor Bradley, Oran O'Kane and Euan Williams.
See below for a gallery of pictures from the ARC Madrid Cup 2016:
Club NI 2003s at Madrid Cup, September 2016