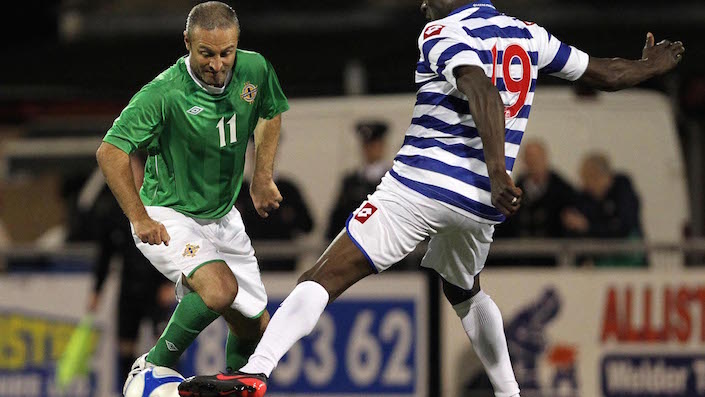 Michael Hughes has revealed David Healy should have at least one more goal in his record tally for Northern Ireland.
Healy scored 36 times for his country in 95 appearances but legendary winger Hughes has admitted he pulled rank on him during a game – and effectively prevented him from adding to his impressive goal haul.
"We were playing against Malta in a friendly in Valletta (March 2000) when we were awarded a penalty. David wanted to take it but I took the ball off him. Basically I was more senior and told him to clear off," he revealed.
Hughes smashed home the spot kick – in the 13th minute – but Healy did manage to find the net in a 3-0 victory with a crisp low strike in the 41st minute. Before that James Quinn had scored on 15 minutes.
The penalty 'incident' in Malta was recalled by Hughes as he reflected on his international career – and on how much he loved international football.
Between 1991 and 2004 he won 71 caps for his country, scoring five goals.
His favourite goal for Northern Ireland, however, was his first: a strike against Germany in a friendly in Bremen in June 1992.
It was only his third full game for his country and he was delighted to score.
"When you are young and you get in the team you always wonder if you are going to win another cap. Scoring against Germany definitely helped to cement my place in the squad," he said.
He also scored against the Germans five years later in a World Cup qualifier at Windsor Park, a game which the visitors won 3-1.
His other goals for his country came in a 1-1 draw against Portugal in Porto (1995, Euro 96 qualifier) and in a 3-0 victory over Iceland in Belfast in 2001 (2002 World Cup qualifier).
Another one of his highlights in a green shirt was his debut away to Denmark in a Euro 92 qualifier.
Northern Ireland lost the game in Odense 2-1 but Hughes was hooked on international football.
"I remember the Danish supporters creating an incredible racket and I could sense international football was different to club football. And I loved it," he said.
Hughes started out at Carrick Rangers where he made 18 appearances before signing for Manchester City as a trainee in 1988. He broke into City's first team a couple of years later and eventually made 26 appearances before joining French side Strasbourg (83 games and nine goals, 1992-96).
During his time in France he had a couple of loan spells with West Ham – 45 appearances – and then eventually signed on a permanent deal with the Hammers. He made a further 38 appearances in 1996-97, scoring three goals.
From there it was off to Wimbledon for five seasons – 115 appearances, three goals – and a brief loan spell with Birmingham City.
A wrangle over his player registration between Wimbledon and Birmingham put his career on hold for over a year. Eventually it was sorted and Hughes signed for Crystal Palace. He played 126 times for the Eagles (2003-2007), weighing in with seven goals. And he was also club captain for a time.
The curtain effectively came down on his playing career in 2007-08 after he made 18 appearances for Coventry City.
These days Hughes is based in his home town of Larne but travels quite a bit to England, Spain and the US. He was previously chief executive at Carrick Rangers but although he is still involved with the club it is to a lesser extent now.
Michael also has his own academy based in Carrickfergus where kids aged from five to 10 are coached.
He believes football is getting stronger and stronger in Northern Ireland.
And he is loving the fact that Northern Ireland's Euro 2016 campaign has inspired the kids at his academy.
"At the academy all the kids are talking about Northern Ireland players – and that's great. Even four-year-olds and five-year-olds know our players. There's a real interest in football through all the age groups and we have got to keep that going," he said.
See further coverage on the Irish FA website this week on Michael Hughes' views on Michael O'Neill and what he thinks about the current Northern Ireland squad. 
Image: Michael Hughes in action for a Northern Ireland Select against a QPR Select in an Alan McDonald memorial game at Seaview in September 2012.