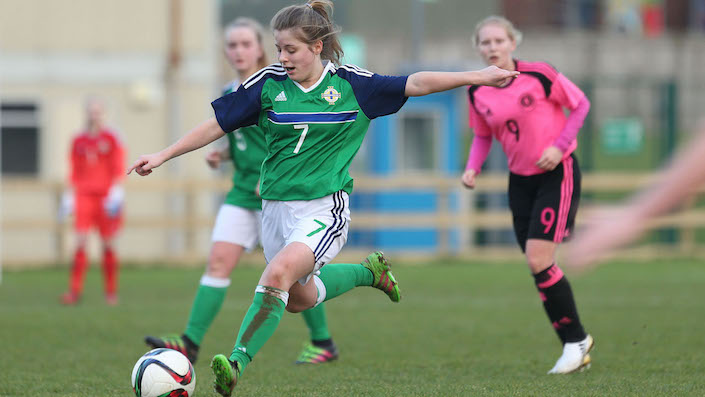 A young Northern Ireland U-17 women's team lost 2-0 to an experienced Scotland side in Ballymoney today.
Two second half goals from Scotland were enough to take the victory on an afternoon where Alison Nicholl felt her side could have got a result.
It was the home side, featuring four 2002's in the starting line-up, who had the better of the first half and will feel aggrieved that they weren't awarded a penalty from a mistimed tackle in the box.
On an afternoon when Lauren Perry wasn't under much pressure in the Northern Ireland goal, Nicholl's side conceded twice early in the second half.
The visitors came out brighter after the break, taking the lead after five minutes and then netting another shortly after from a dangerous cross into the box was finished well at the back post. 
Despite going two goals behind, the home side looked to get themselves back into the game, as some good Scottish goalkeeping kept out the dangerous Emily Wilson, Casey Howe and Sadie Craig who all had chances.
Unfortunately it wasn't to be but Nicholl was very pleased with the team's performance despite the result.
She said, "We are disappointed with the result, but it was a very pleasing performance from the girls today. We had four young girls in the starting line-up making their debut and another two who came off the bench.
"We had chances in both halves, so it could have gone our way on another day. It was an evenly matched game, which is a credit to the girls playing against a much more experienced opposition."
The teams face each other again on Tuesday at Jordastown (12.00 kick-off) and Nicholl is looking to get a result.
"We are looking to build for the match on Tuesday, and with a similar young side we hope to get a result."
Northern Ireland starting line-up:
Lauren Perry (GK), Caitlin Rae, Beth Chalmers, Kelsie Burrows, Zoe Kilpatrick (Kirsty Cameron), Megan Bell, Aine Smith, Aimee-Lee Peachey, Leah McAvoy, Sadie Craig (Casey Howe), Emily Wilson.
Unused Subs:
Maddie Lee Clifford, Ellie Duffy, Nadine Hunter, Joley Andrew, Cora Maxwell
U-17 Women | Northern Ireland v Scotland