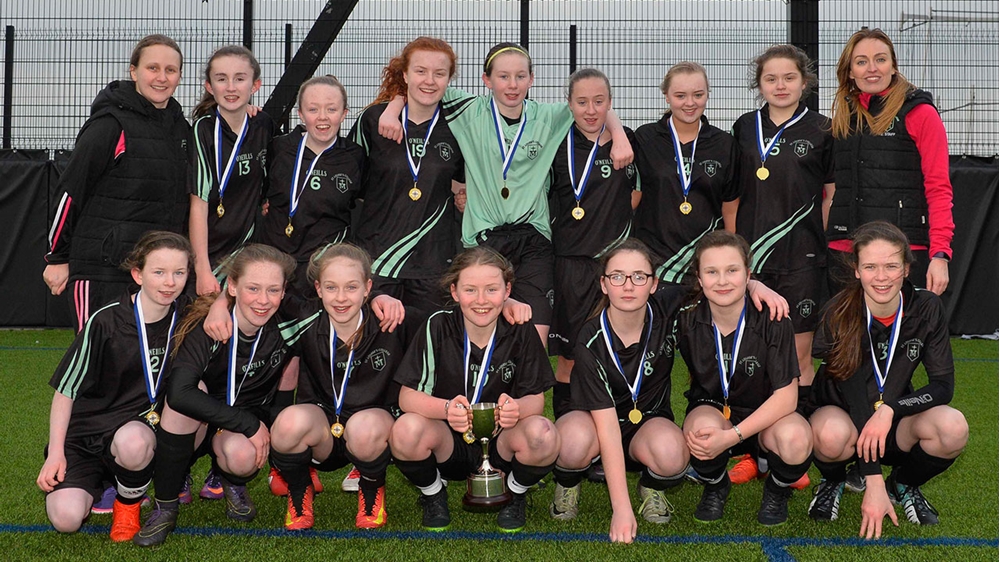 St Louise's Comprehensive College are this year's national girls' football champions in Northern Ireland. 
The Belfast school's senior squad proved too strong for five other teams at this year's National Finals Day.
The finalists for the end of season tournament were confirmed after three 11-a-side regional schools' tournaments. 
Six teams from the three heats made it through to the finals to play each other once in a league format.
The games were staged in tricky conditions at Meadowbank in Magherafelt with the girls producing some excellent football in front of the women's international manager, Alfie Wylie.
In action at National Finals Day were St Louise's Comprehensive (Belfast), St Genevieve's High (Belfast), Holycross College (Strabane), Devenish College (Enniskillen), Assumption Grammar (Ballynahinch) and Foyle College (Derry-Londonderry). 
St Louise's produced the best displays on the day and won four of their games and drew the other. The girls from the Falls Road effectively claimed overall victory in their final game with a 5-3 win over Foyle College.
On their way to glory the Belfast school also defeated Assumption 1-0, St Genevieve's 3-2, Devenish 4-0 and drew 0-0 with Holycross. They scored 13 goals and conceded five on the day. 
The teams from St Genevieve's and Holycross also produced some great performances and they both secured nine points in the league format. Holycross won two and drew three, while St Genevieve's won three and lost two. One of their defeats came against Holycross (1-0).
With both teams finishing level on points it was decided there would be a penalty shoot-out for the silver medals. 
After both teams scored with their opening five penalties it came down to sudden death. St Genevieve's scored and Holycross missed – and that was enough for the Stewartstown Road school to secure second place overall.
Jonathan Michael, the Irish FA's Schools and Futsal Manager, said: "The association has made a commitment to increase football participation within schools through the Let Them Play youth strategy. 
"This tournament was an excellent example of this in action and the standard of play from the girls was fantastic. 
"With the Women's Under-19 European Championship coming to Northern Ireland this summer, it is wonderful to see the standard of girls' football here constantly improving, which will have a positive impact on international teams in the future."
Image: The victorious team from St Louise's Comprehensive who are this year's national girls' football champions in Northern Ireland.
See gallery below for action from the National Finals Day.