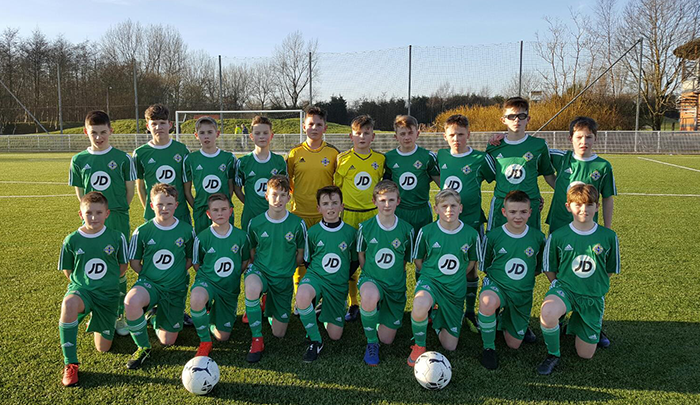 JD Club NI teams kick-started a busy year by putting in some strong performances against Rangers' underage teams.
Four age groups from the Irish Football Association's development programme for young elite players travelled across to Glasgow at the weekend to take on their Rangers counterparts.
The U12 and U13 teams both registered decent wins against the 'Gers at the Rangers Training Centre (formerly Murray Park), while the U14 and U15 squads were both narrowly defeated. 
Patrick Kelly and Darren Robinson scored two apiece as the U12s swept aside their hosts with some scintillating football. The final score was 7-1. 
And the U13s were also in control in their game in Scotland as they registered a 2-0 victory.
The U14s competed well against Rangers, narrowly losing by a goal to nil, while the under-15s were unlucky to come away empty handed as they conceded a late goal in suffering a 2-1 defeat.
Darren Murphy, a senior JD Club NI coach, said the boys making the trip to Glasgow all had "a great experience".
"It was superb and Rangers looked after us really well. I couldn't speak highly enough about how we were treated. It was a great way to start the JD Club NI programme in 2017," he said.
It's the second year running that JD Club NI teams have fulfilled January fixtures against Rangers and Darren is hoping the development days in Glasgow will become a permanent fixture on the calendar for the Northern Ireland boys.
Darren added: "Rangers see it as a very worthwhile exercise, as do we. It's a great way for our boys to see how academies are run at big clubs. Rangers had their coaches and their scouts there and hopefully they were impressed with what they saw from us. All of our teams competed really well.
"Hopefully we can do something similar with other clubs as well."
The squads that travelled to Scotland included:
U12s | Rian Brown, Steven Scott, Paul Keogh, Jack Patterson, Odhran McCart, Chris Cope, Liam McStravick, Darren Robinson, Patrick Kelly, Fintan McDaid, Bobby-Jack McAleese, Conor Henry, Zach Cowan, Thomas Connelly, Luca Doherty, Caolan Fox, Sean Roberts, Sam Watton, Jay Riley.
U13s | Billy McDowell, Aaron Whiteman, Callum McCarron, Jamie McDonnell, Michael Forbes, Jake Wallace, Oisin Gallagher, Charlie Lindsay, Callum Marshall, Conor Falls, Padraig Lynch, Dylan Graham, Cory McLaughlin, Matthew Carson, Jamie Doran, Terry Devlin, Oran O'Kane, Charlie Allen, Harry Wilson.
U14s | Lewis Brown, Chris Colhoun, Aaron Donnelly, Orrin McLaughlin, Charlie Anderson, Lewis McKinnon, Caolan McBride, Sean McAllister, George Tipton, Vicky Saldanha, Conor Bradley, Connor Byrne, Oisin Conaty, Joshua Archer, Matthew Lusty, Liam Toman, Ross McCausland, Reece Byrne.
U15s | Ruadhan Hughes, Jesse Carson, Michael Glynn, Dylan Boyle, Jack Scott, Sam McClelland, Ben Wylie, Chris Hutchinson, Aaron Brown, Ben Gallagher, Trai Hume, Dean Corrigan, Marrito Marcell, Carl Johnston. 
IMAGE: The U13 JD Club NI squad that played against Rangers in Glasgow.