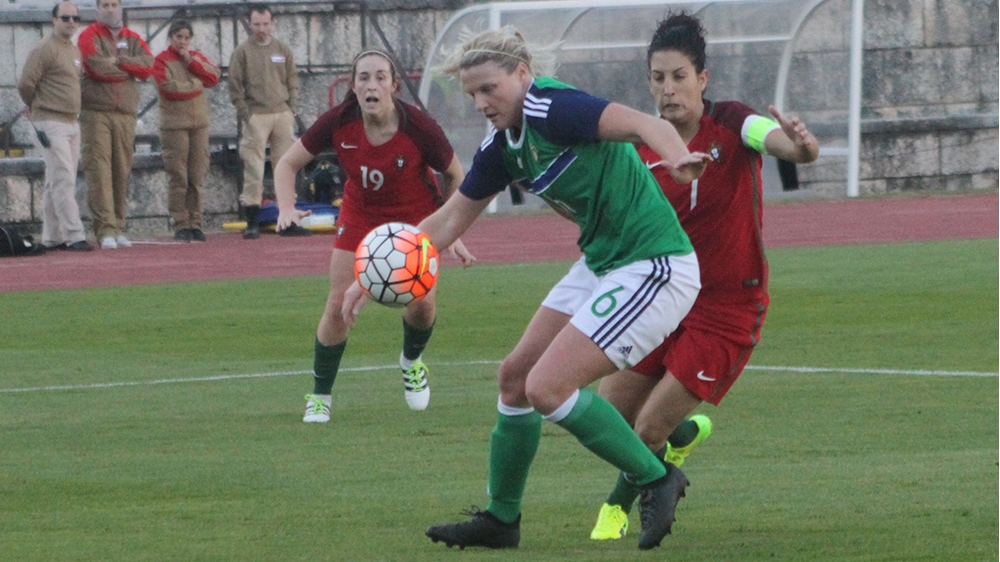 Northern Ireland Women's defender Ashley Hutton believes that even in defeat her side have shown a capability to match the bigger nations.
Northern Ireland lost their opening friendly at the Estadio Nacional by a single goal as a heroic defensive display was led by the usual central defensive pair of Hutton and Julie Nelson.
But the Linfield Ladies player shared the praise among her team. She said: "All the girls played excellently, from number one all the way to all the substitutes.
"The result shows how far we have come and it's important we continue to get friendlies for ourselves as the more we get, the better we are going to become as a group."
The Women's team were disciplined and resolute in the face of Portuguese possession and Hutton believes the tactics were carried out well: "I think we frustrated them. In the game we were forcing them to go backwards and sideways which was our plan.
"We got the tactics right and it's important that we continue to grow on this performance and make sure that this attitude goes into Thursday night. One decent performance isn't enough. We have to continue to do this."
Although it isn't an ideal result to start the year with, Hutton believes she is part of a team that can push Northern Ireland Women's football onto a higher level. She said: "This is one of the strongest groups that we have had in I don't know how many years.
"Last time I played Portugal was about 10 years ago and we were beaten heavily. This shows we are sticking with the bigger teams. Portugal qualified for the UEFA Women's Euro finals when we didn't.
"It also shows how close we are to achieving the goal of qualifying for a major tournament if we can stay together as a group and work hard. I don't see why we can't compete in September when the World Cup campaign starts."