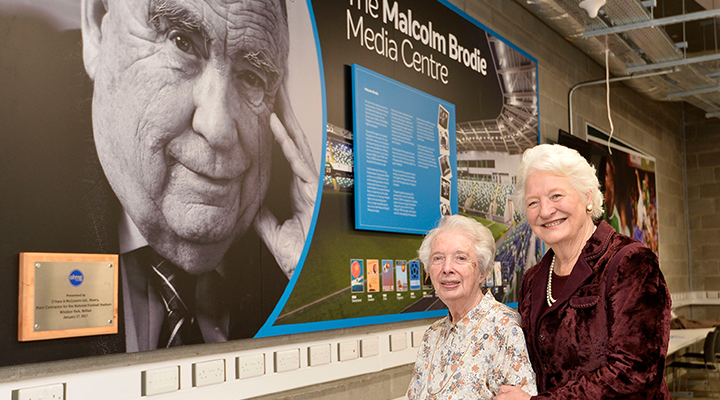 A specially commissioned interpretative display honouring the memory of the late former sports journalist Malcolm Brodie was unveiled today at the National Football Stadium at Windsor Park.
It was presented by Martin Lennon, managing director of O'Hare & McGovern, the Newry-based construction company which carried out the £35m redevelopment scheme to turn Windsor Park into a world class compact football stadium.
The huge display on the wall of the Malcolm Brodie Media Centre details the career of the legendary writer who died in January 2013, aged 86, after more than 50 years reporting on matches across the world, including 14 World Cup tournaments.
Former colleagues belonging to the Northern Ireland Football Writers Association, of which he was a former president, were among the guests who heard Mr Lennon reflect on the life and times of the former sports editor whom he described as once being the elder statesman of sports journalism in Northern Ireland.
He said: "He was without question a legend of his trade, known and respected throughout the world, and he was just as happy mixing with the fans here on a cold winter's night as he was rubbing shoulders with the game's great and good at an international fixture somewhere on the far side of the globe." 
Irish FA President David Martin, the association's chief executive Patrick Nelson, former Olympic Gold medallist Dame Mary Peters as well as members of Mr Brodie's family, including his widow Margaret, also attended the event.
Mr Martin said the former Belfast Telegraph sports editor's contribution to sport generally, and particularly football, in Northern Ireland had been immense. 
He added: "He was a great champion for Northern Ireland football at both international level and for the local game, covering them extensively in the professional manner of a man at the top of his game.
"It is a fitting tribute to Malcolm that the new media centre in the National Football Stadium bears his name given his standing among his peers in journalism."
Mr Nelson, the IFA chief executive, agreed.  He said: "It's fitting that the current generation, and future generations, of football writers will be filing their copy from a centre named in his honour." 
During today's event, the BBC's Stephen Watson, who is chairman of the Football Writers, conducted a question and answer session with Dame Mary, another close friend of Mr Brodie, who spearheaded the fundraising campaign to develop the athletics track at Upper Malone in Belfast in the aftermath of her women's pentathlon gold medal win at the 1972 Munich Olympics.
IMAGE: Malcolm Brodie's widow, Margaret, with Dame Mary Peters at the unveiling of the new display in the Malcolm Brodie Media Centre in the National Football Stadium at Windsor Park.