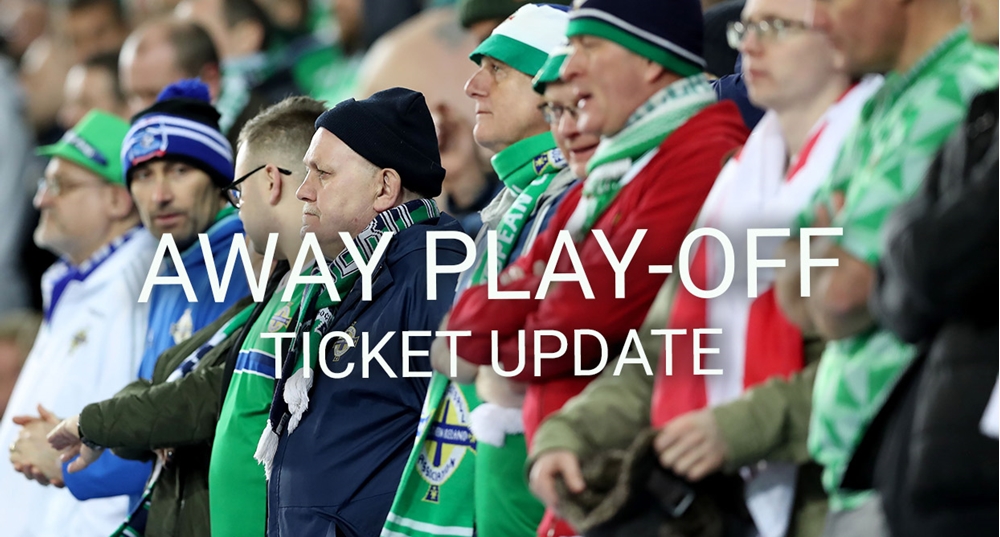 Northern Ireland will play Switzerland in the second 
leg of the FIFA World Cup Play-Off in Basel on 12 November.
The demand for this fixture has been considerable. We are endeavouring to get back to all enquiries and we would like to thank supporters for their understanding at this time. 

ALLOCATION
The Swiss FA has confirmed that the official visiting allocation for this game will be just 1,800 tickets. Given how many Northern Ireland fans want to go the match, we formally requested a larger allocation, but as it currently stands this has been rejected. The Irish FA will continue to liaise with the Swiss FA regarding a further allocation of tickets.  

WHO CAN APPLY FOR A TICKET?
Only current campaign card holders will have access to buying tickets and purchase will be based on a maximum of one match ticket per campaign card. 

ASSIGNING PRIORITY
The Irish FA will apply a priority scheme to the allocation of this limited number of tickets. To do this we have:
Assigned loyalty points to each account held by a lead booker;
Written to each lead booker to ask them to complete an expression of interest form. This information was needed to gain a clearer understanding of individuals within each account and the demand for tickets.
We will then go through each individual application and use both the assigned loyalty points (based on ticket purchases within the account belonging to the lead booker) and the more detailed information provided in the expression of interest to determine priority for buying tickets for this game.

APPLYING FOR TICKETS
Lead bookers are requested to submit the name(s) of those who wish to attend this game and will receive instructions on how to do so by email on Monday before 11am. Names must be submitted no later than 12 noon on Tuesday. 

PLEASE NOTE. For any successful purchases, photographic ID (in the form of passport or driving licence) will be required for collection of individual tickets and must match the names provided. NAME CHANGES WILL NOT BE AVAILABLE AT ANY TIME AHEAD OF THE FIXTURE. Individual collection of tickets will be in Basel. Names provided may be attached to your account for future allocations.
We will endeavour to confirm all successful applicants by 5pm on Wednesday. No information submitted by emails, by phone or in person regarding individuals within accounts should be made at this time.