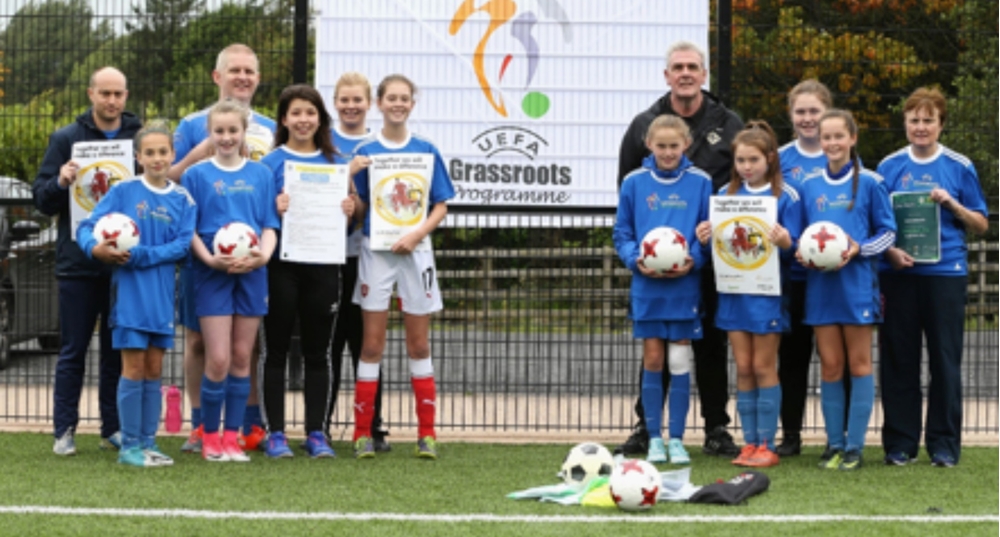 As part of the UEFA Grassroots Week celebrations the Irish Football Association has run a number of events throughout Northern Ireland.
Nine separate events were delivered by the regional Grassroots Development Officers with over 2000 participants.
Many elements of Grassroots Football were covered during the week including a primary school festival, a family club open day, a post-primary school Futsal Festival and a 'Silent Sidelines' day at all McDonald's Small-Sided Games Development Centres.
In addition, St Oliver Plunkett FC received the UEFA Grassroots Gold Award in the Best Club category in the 2017 UEFA Grassroots Awards
The club has over 500 playing members and has seen huge growth over recent years among females, people with a disability and ethnic minorities.

Irish FA President David Martin said:
"Firstly, it is fantastic recognition for the club and the work that they do in the community. This is a much-coveted award and to be nominated shows that their grassroots work isn't just the best in Belfast, or the best in Northern Ireland, but among the best in Europe.
He added: "I'm pleased for the club but I also believe that this reflects really well on the Association and the work that our regional grassroots development officers do across the country. I hope that this award will inspire other clubs to work with our GDOs to deliver for their players and for their communities."
For further information on Grassroots programmes within Northern Ireland please contact the Grassroots and Youth Development Manager, Ian Stewart at: ian.stewart@irishfa,com.
Below are a list of the Irish FA Foundation programmes and initiatives delivered during UEFA Grassroots Week 2017.