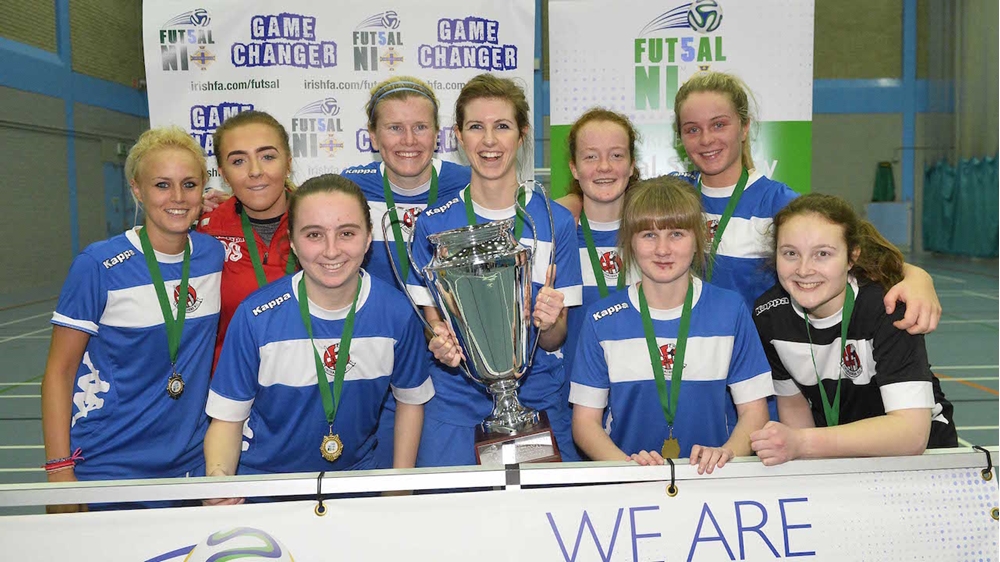 Women's teams across Northern Ireland are being urged to take part in futsal leagues this autumn/winter in Belfast, Lisburn and Portadown.
The Female Domestic Futsal League is set to begin on 3  November and conclude on 26 January 2018 – and the Irish FA Foundation is now requesting teams to register to take part.
The competition will take place on Friday evenings between 7-10pm in three venues across Northern Ireland: Shankill Leisure Centre in Belfast (NIFL Teams only), Lagan Valley LeisurePlex in Lisburn (NIWFA Teams only), The Rink in Portadown (NIWFA Teams only).
The winners of each region will take part in a National Championship Final next February with the Champions representing Northern Ireland in the first female Futsal Home Nations Cup. 
Female Futsal League Form
Rules
1. Player registration
(a)   All players must be registered on the team sheet (up to 14 players per team with up to 10 players per match) 
(b)   Teams must ensure as to the eligibility of their players before registration. 
(c)   A player may only play in one age group
(d)    A player may only register for one team during the programme 
(e)     No under age players are allowed
Seniors : Age 16 or over on the match day
2. Duration of play
Seniors          2 x 20 minutes                       
3. Late start
(a)   Teams must report to the venue 30 minutes prior to kick – off. 
4. Failure to report
(a)   You have signed up to the competition and must be available to play all your assigned matches. 
(b)   Failure to report for a game or breaking any of the above rules will result in your team being expelled from the competition. 
5. Discipline
(a)   The manager will be responsible for the conduct of his/her players, both on and off the field of play. 
(b)   A player sent off will be suspended for a period of one match, taking effect from the game following the sending off. 
(c)   All clubs are responsible for the behaviour of parents and spectators belonging to their teams.
6 Same coefficients in the case of equal coefficients, the Irish FA administration applies the following criteria to rank the teams concerned: 
a. goal difference;
b. goals scored;
c. If these criteria do not enable the administration to rank the teams in question, head to head will be taken into account.
6.1 Final decision
The Irish FA administration has the final decision on any matters not covered by these provisions.