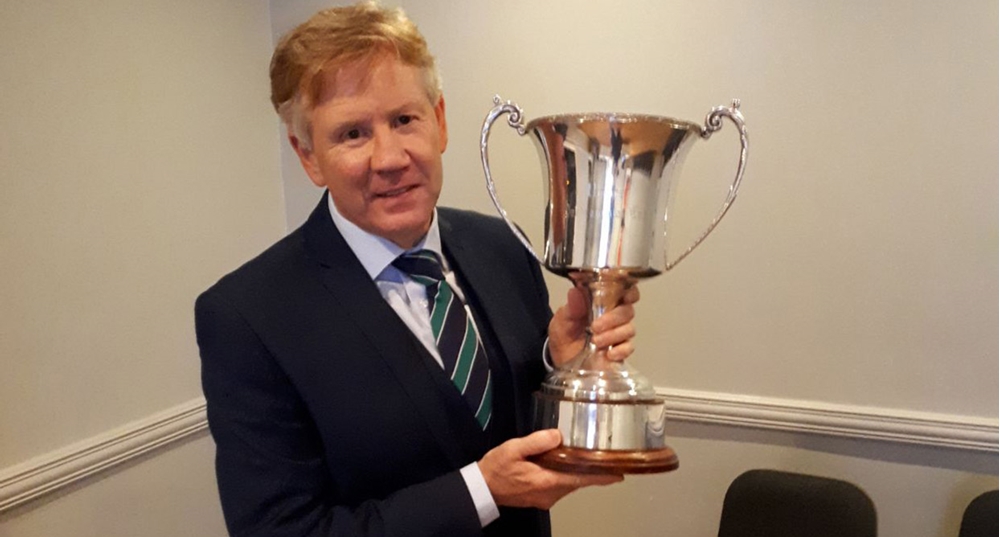 Northern Ireland Junior international team boss Harry McConkey is on cloud nine after his side won the Umbro Quadrangular Tournament in Glasgow.
It has taken McConkey 12 years to get his hands on the trophy and he is delighted with the efforts of his 20-strong squad.
Northern Ireland secured the Umbro trophy at the weekend thanks to a 2-0 win over the Republic of Ireland. They also defeated Isle of Man 4-0 and drew 2-2 with hosts Scotland in the tournament.
McConkey said: "All 20 players were exceptional in the tournament. This was a group of very talented players who collectively played with great character, perseverance and commitment.
"We came back from the dead at 2-0 v Scotland in game one. We battled hard to contain a very good Isle of Man side in the first 10 minutes of game two and then won comfortably 4-0.
"We went into game three as a team that was growing in self-belief and had positive momentum in all three units of defence, midfield and attack. We pressed high early on and forced the Republic of Ireland's defence into errors and took control of the middle third of the park.
"Our goalkeeper and back four provided a great platform to play from in possession and were exceptional in their controlled aggression out of possession. We were blessed to have four strikers of real quality who had a hunger and desire to work the opposition both with and without the ball.
"I have deliberately not named any individual as I feel we won this game and this Umbro Quadrangular Junior International Tournament on real genuine togetherness, both on and off the pitch."
The game against the Republic was a tight affair in the first half and only a fine save from Northern Ireland keeper Jordan Williamson kept it level at the break.
McConkey's side pushed forward after the restart and got their reward on 62 minutes when Ricky Thompson fed Warner Mullen and he neatly slotted the ball home.
Then Ryan Campbell scored his third goal in three games to put Northern Ireland firmly in control.
However, there was a frantic finish when the Republic pulled one back in the 80th minute. But Northern Ireland held firm and deservedly ran out 2-1 winners.
McConkey added: "I have worked closely with the FAI managers in my 12 years in charge, Gerry Smith for 10 years and the last two years with Gerry Davis. We have helped each other with build-up games, video analysis, resources etc on opponents in Europe.
"They gave us a hell of a last game, and contested every ball. At the end of the battle there was a very sincere handshake and positive congratulatory recognition from all their backroom team and many of their players. Genuine mutual respect and understanding was pleasantly evident. We should be very proud and grateful for it."
Northern Ireland: Jordan Williamson (PSNI), William Armstrong (Harland and Wolff Welders, captain), Scott McMillan (Harland and Wolff Welders), Dean Curry (Institute), Ryan Deans (Harland and Wolff Welders), Jordan Gibson (Lurgan Celtic), Warner Mullen (Lurgan Celtic), Ryan Campbell (Dergview), Ricky Thompson (Dollingstown), Ryan Morrow (Institute), Stephen Curry (Institute). Substitutes: Paul Wells (GK – Limavady United), Dale Montgomery (Loughgall), Dylan Wilson (PSNI), Aaron Walsh (Maiden City), Ryan Arthur (Knockbreda), Adam Gray (Ballyclare Comrades), Stewart Nixon (Ballyclare Comrades), Mark Kelly (Ballyclare Comrades), Craig Harris (Harland and Wolff Welders).