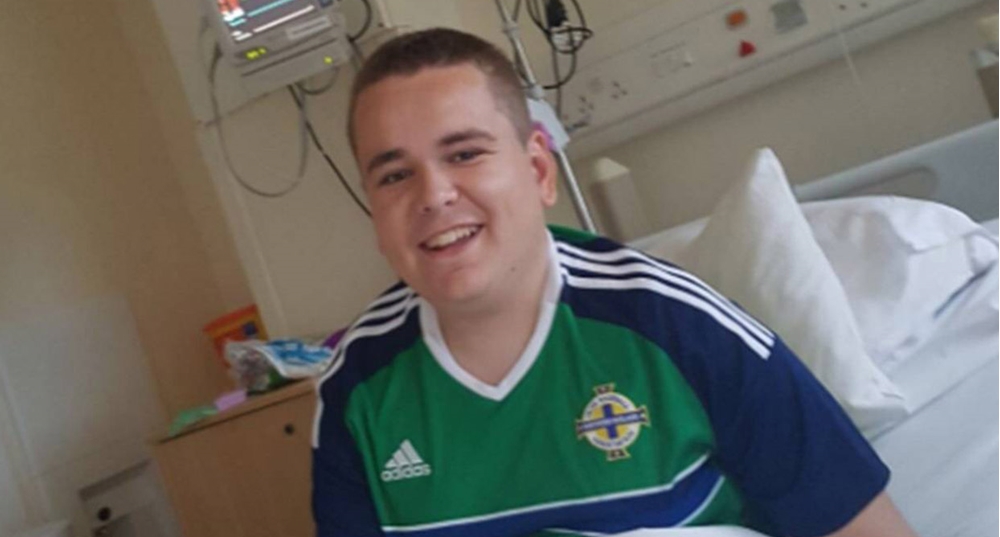 October's Fan of the Month accolade goes to life-long Northern Ireland supporter and kidney patient Mark Dobson.
Mark would regularly have dialysis before attending games due to him previously having a kidney transplant. But he hasn't let that hold him back!
Mark said: "Massive thanks to Northern Ireland – I'm absolutely thrilled to be October's Fan of the Month and I'm also thrilled that the team are joining me in promoting the life-saving power of organ donation!
"I've had kidney problems since birth, but as a life-long Northern Ireland fan I've been part of the Green and White Army at every home game in the last 18 years, except for one – and that was when I was having kidney transplant surgery in 2009."
Mark's mother Jo-Anne Dobson has spoken highly of the Northern Ireland team's positive impact on not only her son but the cause they have been fighting to spread awareness for.
She said: "I remember how thrilled Mark was when he got the chance to meet Michael O'Neill and the team when they dropped into Stormont for a reception last October. He was so proud to be part of the GAWA in France for the European Championships and was left speechless as he got to hold the Medal of the City of Paris awarded to fans as a mark of gratitude for their exemplary behaviour during Euro 2016.
"Thank you to the team, management and fans for your consistent and powerful support for organ donation and for this honour for Mark. We all have it within us to be a lifesaver."
Mark's optimism is truly an example to us all which extends to his backing of the team as they aim to get to Russia.
He said: "Now that I'm on dialysis I'm not going to let it stop me following my team. This year has brought massive changes for me but if I have to pack up my dialysis machine and bring it the whole way to Russia then I will.
"As a renal patient I want to encourage all my fellow Northern Ireland fans to think about organ donation and what it would mean to be able to save up to seven lives.  I've signed up, and I thank the team and Gerry Armstrong for their continued and massive support for a cause so close to my heart."
You can follow Mark's journey and learn more about how you can become an organ donor on his blog 'Dobson on Dialysis' by CLICKING HERE.
Between welcoming the world champions to Belfast and heading off to Norway, you've been sending plenty of amazing photos and videos. You can see a selection of the entries in the gallery below. Keep your stories coming in for your chance to win November's Fan of the Month accolade.
Twitter: @northernireland
Instagram: @northernireland
Facebook: facebook.com/northernireland
Fan Gallery | October FotM