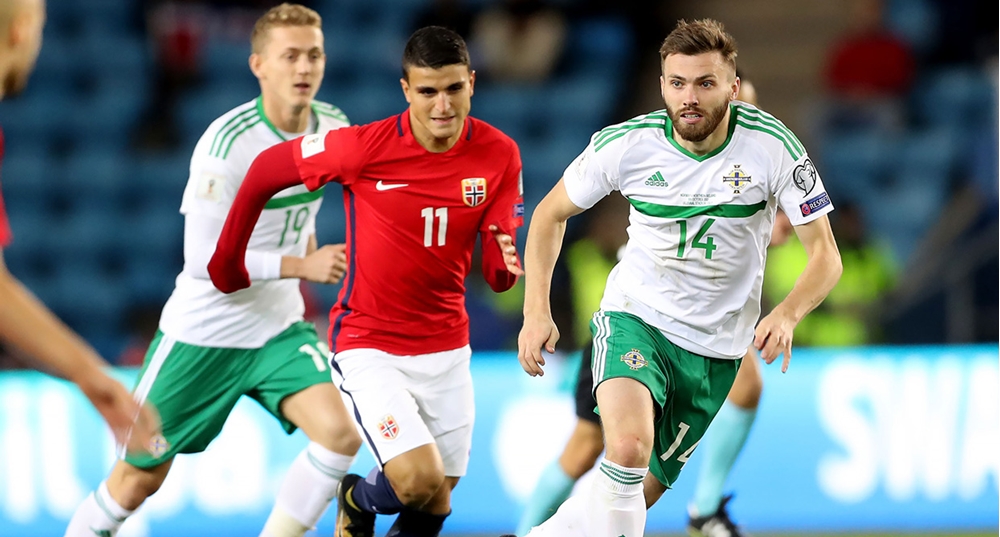 Stuart Dallas reckons other teams will want to avoid Northern Ireland in next month's World Cup play-offs.
The attacking midfielder, who was Northern Ireland's best performer in the disappointing 1-0 defeat to Norway tonight, said it was a great achievement to secure a play-off spot.
Scotland's 2-2 draw away to Slovenia earlier today meant Northern Ireland had reached the play-offs before a ball was kicked against the Norwegians in Oslo. They have qualified for the two-legged play-offs as one of the eight best second-placed teams in the European qualifiers for Russia World Cup 2018.
He said: "We've got to the play-offs, which in itself is a big achievement, but we haven't got there (to the World Cup finals) yet.
"We have a couple of big games now next month and hopefully we can get over the line."
The Leeds United midfielder added: "It will be good to come up against the likes of those teams (Italy, Portugal) and I'm sure they'll not be looking forward to coming up against us."
Following the 1-0 defeat at the Ullevaal Stadium, Northern Ireland striker Conor Washington said: "We're really disappointed with the performance and the score tonight but we did the job in the other games so that's the most important thing and now we look forward to next month.
"Norway were good tonight to be honest. They took one of their chances and we didn't take ours, and that's the difference in winning and losing these games."
The defeat against the Norwegians meant Northern Ireland registered six wins, three defeats and a draw in their Group C qualification campaign, finishing on 19 points (13 points in second-placed teams rankings).
The play-off matches will be staged between 9 and 14 November.