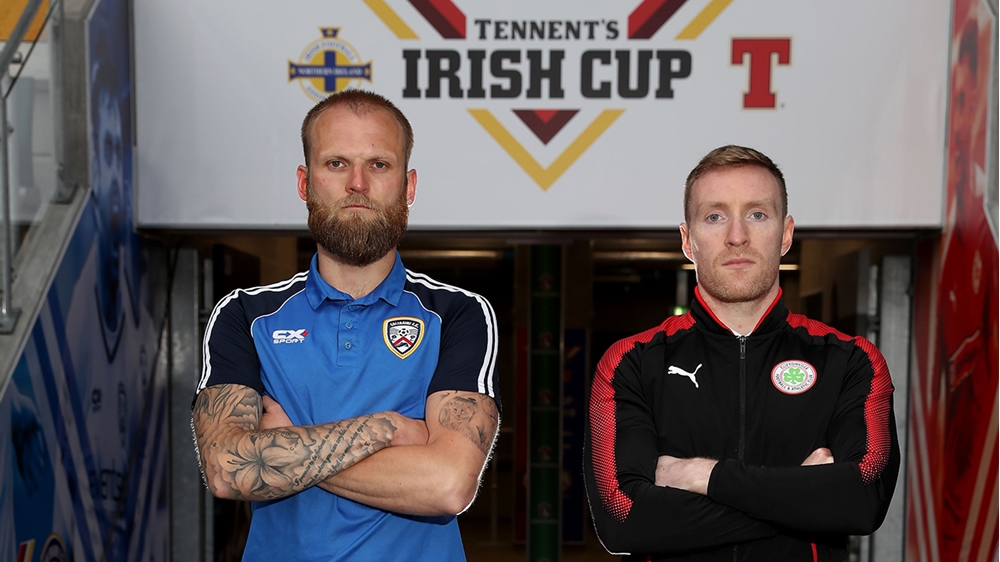 On Saturday Cliftonville and Coleraine go head-to-head at the National Football Stadium at Windsor Park in the Tennent's Irish Cup final (kick-off 2:30pm).
It will be Coleraine's second successive appearance in domestic football's showpiece occasion, and they will doubtless be striving to avoid a repeat of last year's disappointing performance which saw them slump to a three-goal defeat to Linfield.
The Bannsiders will be desperate to end the season with something to show for their efforts. Oran Kearney's side fought a brilliant league campaign, suffering only one loss throughout, but that still wasn't enough to claim the title as Crusaders pipped them in a dramatic conclusion to the season just a week ago.
And seeing the Crues clinch the title might just have added a certain impetus to Cliftonville's efforts on Saturday. The Reds will have looked on as their great derby rivals celebrated and, perhaps, instilled within them that extra bit of determination to join in the North Belfast party.
Cliftonville, of course, have to go back as far as 1979 for their last taste of Irish Cup success. There have been a few near misses over the years and no shortage of silverware in other competitions but Irish Cup glory is always something that has eluded generations of the Red Army.
Could this be their year? Certainly their path to the final has been impressive, knocking out both holders Linfield and their old friends from Seaview plus, in Joe Gormley, Barry Gray's side possess the league's deadliest marksman.
However, they have a poor record against Coleraine this term, losing three out of the four meetings with only a scoreless draw giving any sort of return.
Indeed, that is something Cliftonville fan Fergus Gibson points to as he looks forward with quiet optimism to the game.
"Logic suggests Coleraine are favourites. They finished 22 points ahead of us and we took one measly point from four matches against them this season," he says.
"But it's a final, one nerve shredding winner takes all game where delight or despair awaits.  I've seen too many birthdays slip by since the Reds won the Cup. Hopefully this Saturday won't see another one go by without victory."
Meanwhile, the Reds' prowess in front of goal concerns Coleraine supporter Richard Henry who hopes the Bannsiders can earn some reward for their efforts this season.
"It will be a great occasion, a good crowd and likely a close game. Cliftonville have a dangerous forward line, a real goal threat, but if Coleraine can do themselves justice on the day and play as well as they can then hopefully a good season will be turned into a successful one.
"It would be brilliant to top it off with silverware. We will go into the game with a point to prove after a poor display last year, I hope the 'unfinished business with the Irish Cup' theme of this cup run quickly refocussed everyone involved after last weekend's league disappointment."
Whatever happens and whatever the outcome, the game possesses all the hallmarks of being a fitting conclusion to a memorable season.
Experienced whistler Arnold Hunter has been appointed to referee the game. He will be assisted by Stephen Donaldson and Georgios Argyropoulos, with Ian McNabb acting as fourth official.
You can buy tickets for the Tennent's Irish Cup final up until 1pm on Saturday by clicking here