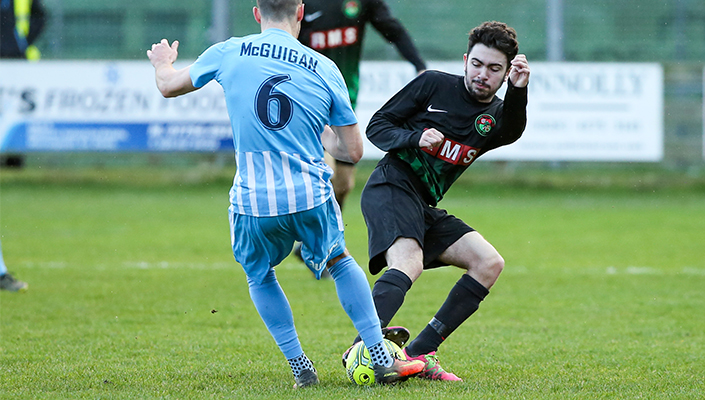 The Western Region face an uphill battle if they want to represent Northern Ireland in the UEFA Regions' Cup for the second year running.
They lost out 2-0 last night in their home game in a two-legged play-off against Eastern Region to determine who will play in a Regions' Cup qualifying mini tournament this autumn. 
The first encounter between the sides was played at Moyola Park FC's Mill Meadow ground.
Both teams created chances throughout the game, but Eastern edged it thanks to some clinical finishing.
Eastern Region (Mid-Ulster and Antrim) opened the scoring on the half-hour mark when Banbridge Town midfielder Stephen Taggart produced a superb hit.
Western Region (Fermanagh and Western and North West) then almost found an equaliser with a great free-kick from Strabane midfielder Kyle Harte, however his effort cannoned off the post.
After that scare the Eastern Region piled on the pressure again and got their second following good work from Crumlin Star's Barry McKervey. He found Joe McWilliams inside the box and the PSNI striker made no mistake from close range.
Harry McConkey, who will be in charge of the Northern Ireland team competing in the Regions' Cup mini tournament, has put together both squads for the play-off games.
He said after last night's match that there was little to choose between the two sides.
"This tie is far from over," he added. 
The second leg, Eastern's home game, is being played at Armagh City's Holm Park on Wednesday 30 May (7.45pm start). 
Whoever wins this month's battle between East and West on the aggregate score over the two legs - away goals count double - will represent Northern Ireland in an intermediate stage mini tournament which Northern Ireland will host in either September or October.
Teams representing Russia and Portugal will be in that tournament, while the winners of a preliminary group featuring sides from Wales, Greece, Macedonia and Sweden will be there, too. The preliminary group mini tournament is being staged early next month.
A total of 39 countries take part initially and after the preliminary stage followed by the intermediate stage eight teams will make up the finals in June 2019. The hosts of the finals will be confirmed once all eight teams have qualified. 
Image: Joe McWilliams, seen here in action for PSNI, scored for Eastern Region in last night's play-off game against Western Region.