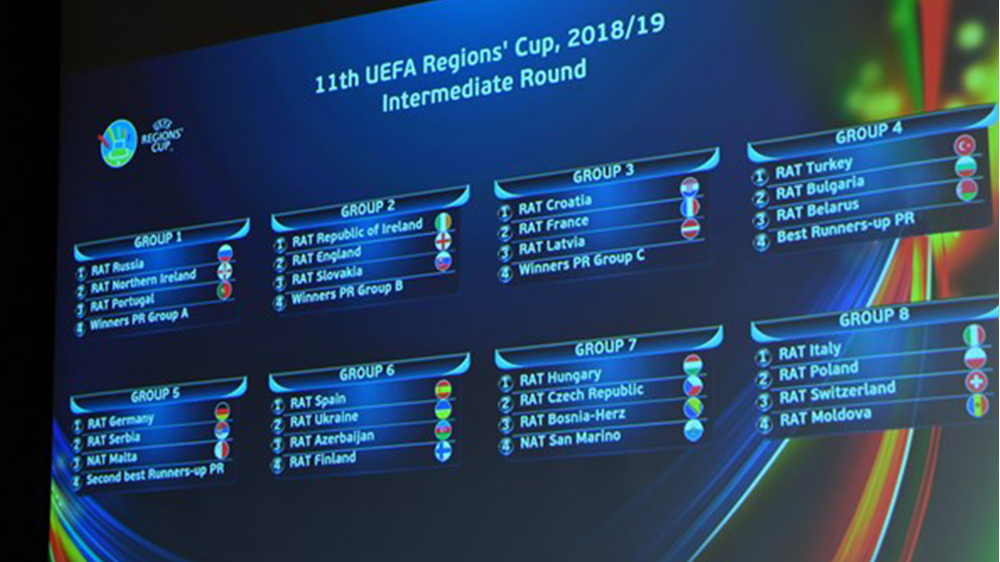 The two-legged play-off to determine who will represent Northern Ireland in a UEFA Regions' Cup qualifying mini tournament is set to be played in Castledawson and Armagh this month.
The first of the two matches between teams from the Eastern Region (Mid-Ulster and Antrim) and the Western Region (Fermanagh and Western and North West) takes place on Wednesday (23 May), with the second being staged on Wednesday 30 May in Armagh.
And the winners over the two legs will go on to represent Northern Ireland in a qualifying group in the intermediate stage of the UEFA Regions' Cup this autumn.
The encounter at Moyola Park FC's Mill Meadow ground on Wednesday (7.45pm kick-off) is the home game for the Western Region, who represented Northern Ireland in the Regions' Cup last year, while the second game at Armagh City's Holm Park on 30 May (7.45pm start) is the Eastern Region's home tie.
Harry McConkey, who will be in charge of the Northern Ireland team competing in the Regions' Cup mini tournament, has put together both squads. And he expects the two games to be "close and competitive".
Both squads have already had a couple of training sessions under a coaching team led by the manager, who pointed out: "This is a great opportunity for players aged over 19 who have never signed professional forms, or played in the Irish League, to display their talents on a European stage with all the professionalism that UEFA tournaments offer."
A total of 38 countries take part initially and after the preliminary stage followed by the intermediate stage eight teams will make up the finals in June 2019. The hosts of the finals will be confirmed once all eight teams have qualified.
Whoever wins this month between East and West on the aggregate score over the two legs - away goals count double - will represent Northern Ireland in an intermediate stage mini tournament which Northern Ireland will host in either September or October.
Teams representing Russia and Portugal will be in that tournament, while the winners of a preliminary group featuring sides from Wales, Greece, Macedonia and Sweden will be there, too. That preliminary group is being staged early next month.
The team that qualifies to represent Northern Ireland will come under the close scrutiny and detailed preparation of McConkey and his coaching team over August, September and October.
For a small nation effectively split in half the amateur players of Northern Ireland have performed well in recent years. They have reached three out of the last six UEFA Regions' Cup finals under the guidance of McConkey.
The squads for the two play-off games are: 
EASTERN REGION
Goalkeepers – Jordan Williamson (PSNI), Dean Smyth (Newington FC);
Defenders – Craig Taylor (Annagh United), Chris Middleton (Ballyclare Comrades), Scott McMillan and Dan Murray (both Harland and Wolff Welders), Adam Robinson (Queen's University), James Wilson (Banbridge Town), Conor Kerr (Armagh City);
Midfielders – Jordan Gibson (Lurgan Celtic), Barry McKervey (Crumlin Star), Stephen Taggart (Banbridge Town), JB Dobbin (Ballyclare Comrades), Joe McWilliams and Dylan Wilson (both PSNI);
Forwards - Ricky Thompson (Dollingstown), Conor Downey (Banbridge Town), Daniel McKinless (Coagh United).
WESTERN REGION
Goalkeepers – Paul Wells (Limavady United), Ruairi McElroy (Strabane FC);
Defenders – Dickie Lynch (Dergview), Hugh Carlin and Bryan McClelland (both Limavady United), Ronan McBrearty (Strabane FC), Michael O'Hara (Maiden City), Stephen Browne (Ardstraw FC);
Midfielders – Adam Buchanan (Dergview), William Donaghey and Stephen Dougherty (both Ardstraw), Mark Cutler (Enniskillen Rangers), Ryan Logue (Limavady United), Alex Pomeroy (Dergview), Kyle Harte (Strabane FC);
Forwards – Tiernan Rafferty (Moyola), Adam Dougherty (Dergview), Aaron Rogue (Maiden City), Ryan Mullan (Newbuildings).