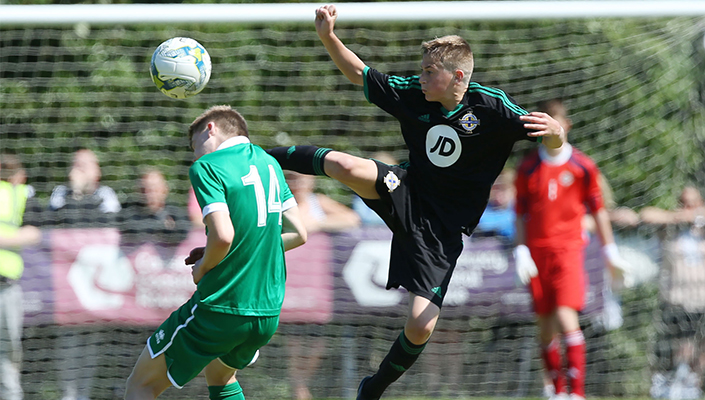 Teams from Northern Ireland picked up three of the four pieces of silverware on offer in this year's All-Ireland Inter League Tournament.
Northern Ireland was represented by four leagues affiliated to the Northern Ireland Boys' Football Association (NIBFA) at the event: Derry & District YFA, Mid-Ulster Youth League, Lisburn Invitational Junior League and NIBFA National League.
The National League 2005 and 2003 squads and Derry & District's 2005s all won trophies at the tournament, which was staged at Limerick University and sponsored by Subway.
The SFAI representatives in the second annual All-Ireland Inter League tournament were Dublin & District, Cavan & Monaghan, Longford and Cork Youth Leagues at 2005 level and Cork, Mayo, Midlands and Sligo-Leitrim Youth Leagues at 2003.
In their opening match the National League U13s came up against a physically bigger and stronger Cork side but technically held their own in a narrow 2-1 defeat.
The other squads from Northern Ireland fared little better in the battle for places in the Challenge Cup semi-finals, Lisburn losing out to eventual cup winners Cavan & Monaghan (3-1) and Derry & District and Mid-Ulster defeated by Dublin & District (5-0) and Longford (1-1, 4-3 pens) respectively. 
That left all four Northern representatives in the Plate competition and it was the National League who eventually ran out Plate winners following hard fought wins over Derry & District in the semi-finals (1-0) and Mid-Ulster in the final (3-2), the latter success coming after a magnificent fightback in the second half after being two down at the break.
In the 2005 section there was better luck for the Northern Ireland teams. Lisburn lost out to Cork (1-1, 4-3 pens) and Derry & District were beaten by Midlands (1-0) in round one, however Mid-Ulster and National League both progressed, NL defeating Sligo-Leitrim 5-0 and Mid-Ulster squeezing past Mayo (0-0, 5-3 pens).
In the semi-finals of the cup National League defeated Cork 3-0, while a single goal against Midlands was enough for Mid-Ulster to set up an all-Northern Ireland decider.
The National League team had been playing some excellent football throughout and they were also on fire in the final, running out 6-1 winners.
There were some notable performances during the tournament from Lewis Mackinnon (captain) and Arron Donnelly at the back, while up front Sean McAllister chipped in with five goals and Charlie Allen and Ross McCausland grabbed three and two apiece respectively. 
It was also an all-Northern affair in the U15s Plate final. Derry & District and Lisburn IYL could not be separated in regulation time so the match was decided on penalties, and Derry & District came out on top in the shootout (5-4).
Image: Sean McAllister scored five goals for the victorious NIBFA National League U15s side during the All-Ireland tournament.