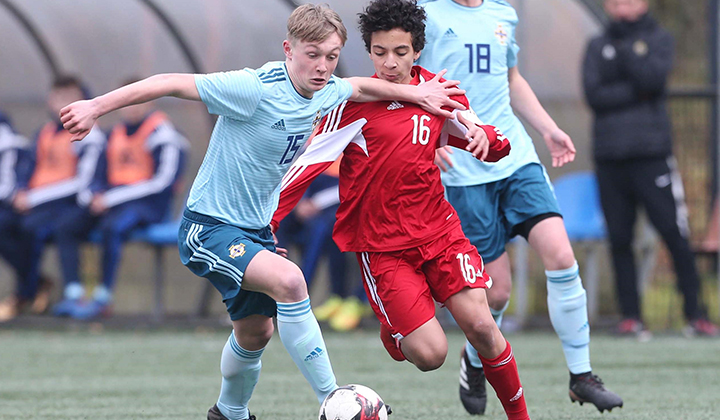 The manager of Northern Ireland's under-17s, Stephen Frail, believes his new crop of U17 players have what it takes to do well on the international stage.  
Players from the U16 section of Club NI, the Irish FA's elite development programme, have been playing development games since the start of the year to help them make the transition to the U17 international set-up. 
And Frail said their performances have been "really positive" and he has detected "many encouraging signs" both on and off the pitch ahead of a UEFA mini tournament in Turkey this autumn. 
The U16 development team played Belgium U16s in Brussels back in March, suffering two defeats, and followed those games up with three wins in a development tournament on home soil, against Kosovo, Luxembourg and the Faroe Islands. And more recently they narrowly lost to Celtic U16s in Glasgow.
"I was actually enthused after the trip to Belgium. Although they lost both games they played well and took on board what was required to play at a high level," said the U17s boss.
"I am actually excited for the mini tournament in Turkey. I believe we can do well," he added.
Next up for the new crop of U17s is the Nordic Cup, which is being staged in the Faroe Islands at the end of August. 
That will be a warm-up for the UEFA U17 mini tournament in Turkey this autumn where they will be aiming to progress to an elite round where they can compete for a place at next year's U17 European Championship finals in the Republic of Ireland.
Northern Ireland have been drawn to face hosts Turkey, Slovakia and San Marino in the mini tournament in October, with the top two teams going forward to an elite round that will be played by the end of March 2019. The team finishing third might also go to an elite round if they are among the four best third-placed teams across 13 groups. 
There will be eight groups of four teams in the elite round with the eight group winners and the best seven runners-up joining the Republic at the finals next year. 
Image: The Northern Ireland U16 development team in action against Luxembourg.