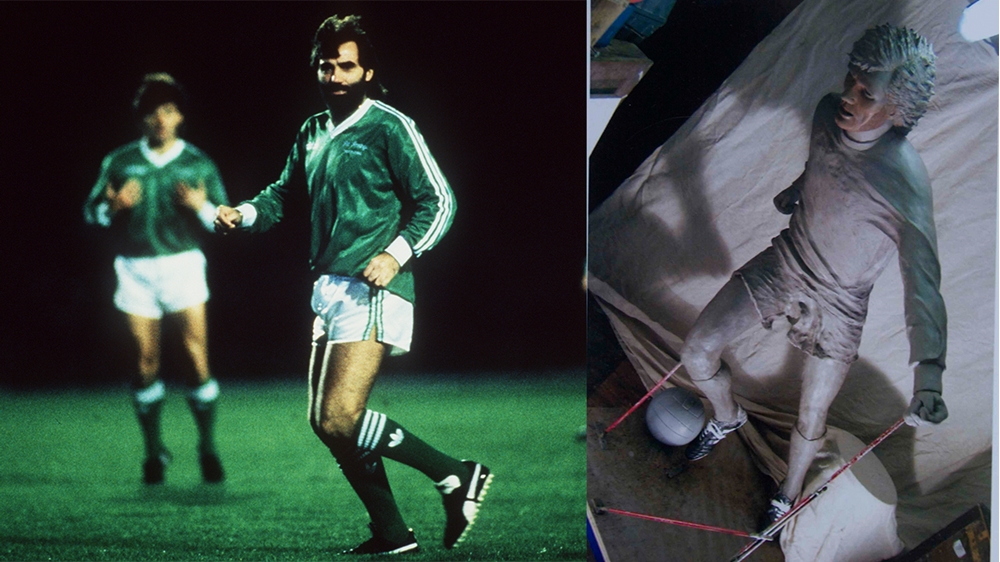 A crowdfunding appeal was launched today to finance the creation of a life-size bronze statue of the legendary George Best.
Belfast sculptor Tony Currie is behind the project and he needs to raise £40,000 to turn his creation from clay to bronze.
Once completed the statue, which depicts the late footballing genius undertaking one of his trademark dribbles, will be sited at Belfast's Olympia Leisure Centre in the shadow of the National Football Stadium at Windsor Park.
The project has been endorsed by the Irish Football Association, Belfast City Council and the George Best Foundation.
Tony and his support team decided to launch the crowdfunding appeal today (22 May) because it coincides with what would have been George's 72nd birthday. The sculpture, currently made in clay, is under construction and the funds are required to complete it in bronze.
He said he was moved to create the statue having been a fan of the former Manchester United and Northern Ireland winger for many years. 
Tony, a keen sportsman and a former amateur Irish boxing champion, explained: "I wanted the sculpture to capture the likeness and movement of George as he dribbles the ball in that perfectly balanced and skilful way for which he was famous."
Belfast City Council has agreed to allow the sculpture to be sited close to the entrance of Olympia Leisure Centre, which is accessed from Boucher Road. 
The council has been carrying out major regeneration works in the area and sees the centre as being at the heart of football and community activities. 
Fans locally, nationally and internationally will be able to visit the area and access the statue which will be sited at ground level.
Tony further pointed out: "It is well known that George faced difficulties in his life and that these were at times immense for both himself and those close to him. While his problems were well documented, he hoped that he could be remembered for the football.
"I hope I am fulfilling his wish in some small way and I would urge all fans of football, and in particular fans of George Best, to get behind this project and take this opportunity to be involved in a little part of history by making a donation." 
If you would like to contribute to The George Best Memorial Sculpture Fund please use the link https://www.crowdfunder.co.uk/the-george-best-memorial-sculpture-fund. You can donate a minimum of £1 or as much as you like.
If the target of £40,000 is reached, it is proposed - in line with a request from the Best family - that any donations above this figure should be donated to The Harry Gregg Foundation.
The sculptor hopes the project will be completed by late September/early October this year.
Images: George Best in action and (inset) the clay version of the sculpture.