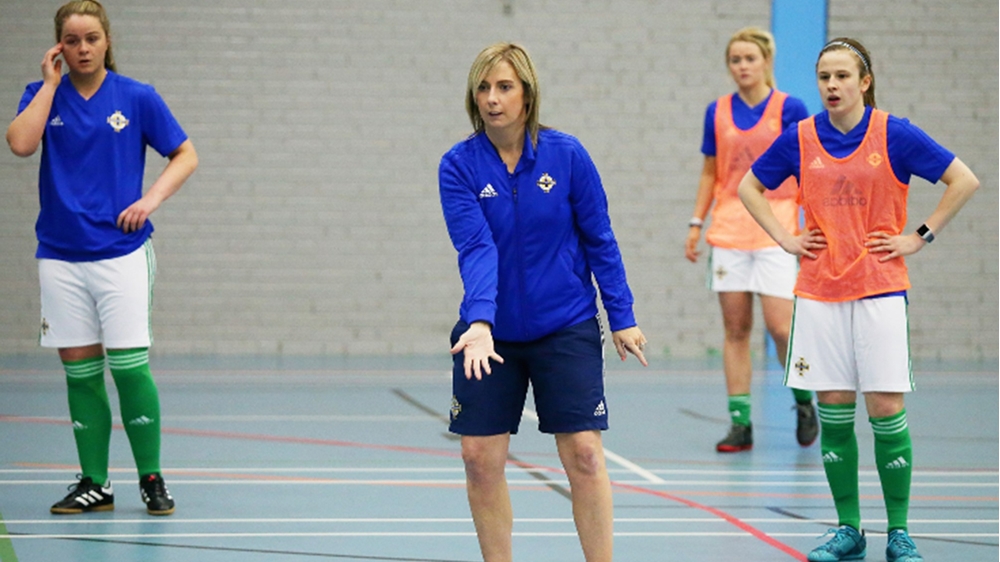 In an ongoing Q&A series we are highlighting the people who make the Irish Football Association tick.
Name: Nadine Murphy.
Job title: Women's Domestic Manager (temporary).
How long have you worked for the Irish FA? 10 years.
What's your role within the association? I oversee the running of our senior women's leagues as well as all junior leagues. I am responsible for creating and implementing strategies to develop the women's game at all levels across Northern Ireland, giving girls of all ages and abilities a place to play. 
Describe a typical working day for you. Hectic and always busy.
What's the best thing about your job? I get to work in a field that I love and feel passionately about. I spent my younger days being told that there was no place for girls in football. I was determined to not only play the game but to make it my career in some way, shape or form. I get to actively create opportunities for women in football and contribute to the overall growth and development of the women's game here.
What are the biggest challenges you face in your role? Keith Gibson (only kidding).
What are you most proud of? My two boys, Shea and Luca. They are my greatest achievement. My third child is my husband Tuda (former Glenavon, Portadown, Banbridge Town and Cayman Islands goalkeeper).
Where did you work – and in what roles – before you joined the Irish FA? I taught in a High School in the United States for two years after I graduated from university. The school was based in Cleveland, Tennessee. It was a great experience and one that I thoroughly enjoyed. I taught PE, Religion and Social Studies and I was the head boys'/girls' football (soccer) coach. 
Are you/were you involved in football beyond your role with the association? I have played for Crusaders Strikers (formerly Newtownabbey Strikers) for 23 years and I am currently in my 24th season with the team. My goal is to reach 25 seasons in the women's top flight (now the Danske Bank Women's Premiership). Then I think I will hang up my boots.
I have won six league titles and two Women's Challenge Cups with the Strikers and it would be great to add to that tally before I retire.
I am also now assistant manager of the Northern Ireland senior women's international futsal team. This is a new team and very much a new adventure for me. I am working with Keith Gibson (team manager) and Jackie Blyth (coach) and I enjoy being part of a great management team.
Are you involved in any other sports? I love all sport. I have just recently retired from playing Gaelic Football as my old legs can no longer get me through two seasons that run alongside each other.
Where did your love of football emanate from? I come from a long line of football lovers. I have three brothers and it was a childhood task of mine to make them cry because their sister was a better footballer. And things haven't changed in adulthood.
What qualifications do you have? A degree in Physical Education (Post Primary).
Who (if anyone) has provided inspiration for you during your career? I am very fortunate to be surrounded by amazing people in my family and friendship circles. I have always been well supported but perhaps one individual that left a huge mark on me was my PE teacher Marie McCool. She was a hard taskmaster and accepted nothing but the best from me. I still carry the words that she gave me when I was 12 years old. She told me: "Nadine, always take the work ethic that you have on the pitch into every aspect of your life because that will ensure success in whatever you do." She always was, and still is, my number one cheerleader. 
Any other interesting facts about you that we should know?
I have never been sent off during my playing career.