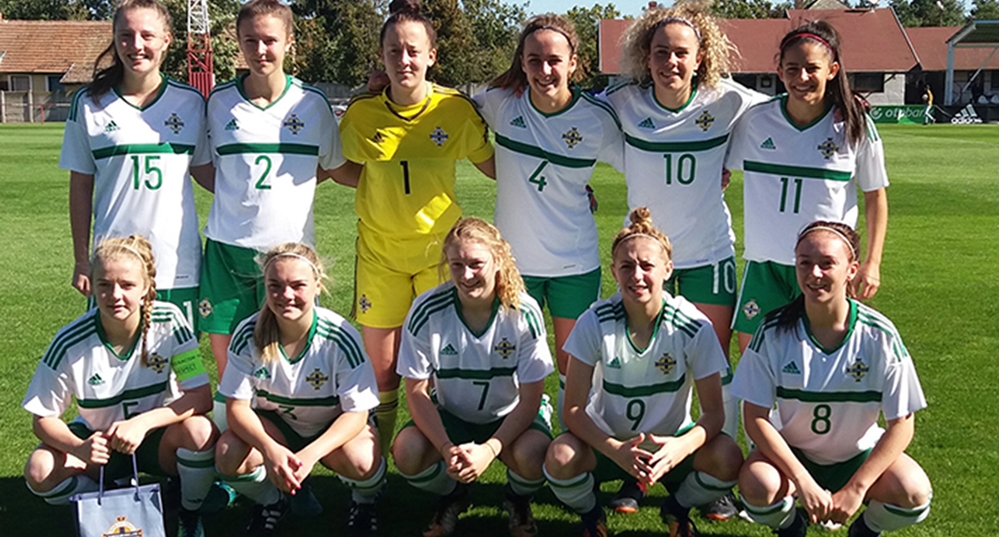 Northern Ireland Women's Under-19 side faced a tough double header in Hungary this week narrowly losing both matches on away soil. 
Following on from their heroics at the UEFA Women's Under 19 Championship, the young side lost the first match 1-0 and the second 2-1
Northern Ireland started the first match well with great enthusiasm and determination setting up in a 4-3-3 formation.
The home side were comfortable in posession without causing any real problems to the Northern Ireland defence of Lauren Robson, Yasmin White, captain Emma McMaster and Izzy Coppel.
Hungary broke the deadlock half way through the first half when a corner to the front post was scrambled towards goal & despite Chloe Orr's best efforts to clear her lines the ball fell kindly to the Hungary forward who finished from 3 yards.
Hungary continued to pressurise the Northern Ireland defence hitting the woodwork alongside some brave defending from Brenna McPartlan cleared the danger. Northern Ireland look to level this as Louise McDaniel had a great strike from just inside the box well saved by the Hungarian keeper.
Northern Ireland battled hard in the second half against a strong Hungarian defence with keeper Beth Hopwood having a quiet half. Rebecca Bassett used her pace to get in behind the defence and a great Chloe Orr pass put her through on goal but the keeper pulled off another good save and the score remained 1-0 at full time.
Northern Ireland made one change for the second game as Caitlin Collinghan replaced Megan Beattie in the midfield three. 
Northern Ireland looked to cause the Hungarian defence problems from the start as Rebecca Bassett broke clear on the right after good play by Chloe Orr but was unable to get the ball across to Louise McDaniel who was unmarked in the box.
Shortly after Bassett again broke clear on the left and went past the Hungarian keeper but who recovered well to concede a corner.
Hungary took the lead as a good strike from just inside the box gave keeper Beth Hopwood no chance. 
Northern Ireland started the second half brightly as a free kick from Chloe Orr from the left wing fell to Emma McMaster on the penalty spot whose effort was well saved with the ball falling to Brenna McPartlan who poked a shot towards goal which was blocked again on the line where Emma McMaster seemed destined to score from 2 yards out but a Hungarian defender miraculously cleared the danger.
As Northern Ireland pushed for an equaliser they were left short at the back with Hungary scoring their second on the break. 
Northern Ireland battled hard and were rewarded for their efforts five minutes from time. Megan Beattie struck a looping volley from 25 yards out which beat the Hungarian goalkeeper.