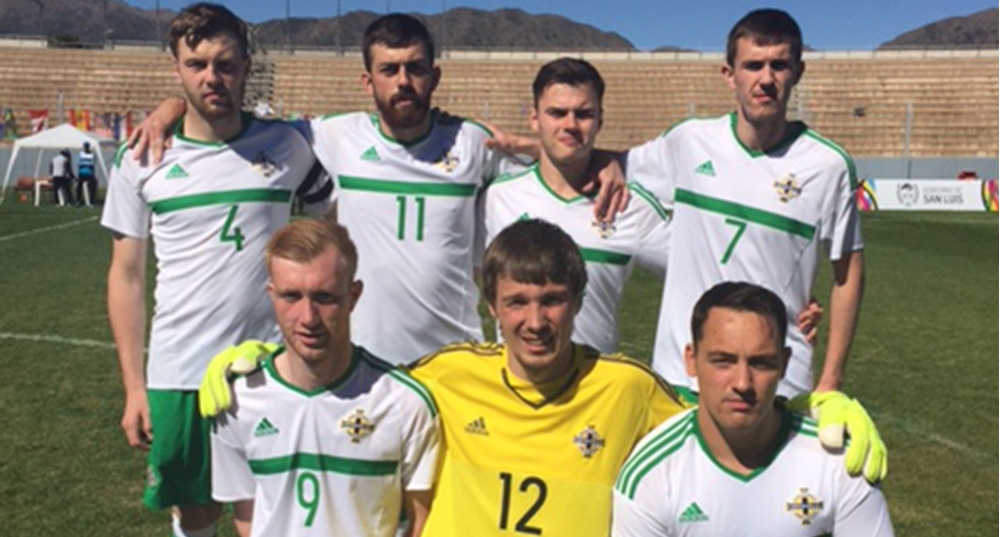 Northern Ireland's Cerebral Palsy team are now ranked 11th in the world – after securing another win at this year's CP World Cup in Argentina.
Although they lost all their group games, the CP team registered a couple of wins as they competed for overall ranking positions.
And they finished the seven-a-side tournament on a high by defeating Portugal to claim 11th place overall.
In their fourth match they defeated Venezuala 2-1 which subsequently saw them take on host nation Argentina.
A couple of days prior to the game Argentina thrashed Spain 11-0 – but they could only manage a 1-0 win against a resolute Northern Ireland team.
In scorching weather conditions that reached 32 degrees the Northern Ireland team produced a superb defensive display against a side ranked in the top six in the world.
And the heroic performance by the boys in green resulted in a standing ovation from the Argentine supporters at the end of the game.
The defeat to Argentina meant Northern Ireland faced Portugal for an 11th or 12th place finish – and they defeated the Portuguese 2-1 after extra time.
Portugal took the lead but Northern Ireland equalised just before the break when Jordan Walker's long throw was hooked into the net by David Levy.
At full time the sides remained deadlocked so 20 minutes of extra time was played in temperatures that soared near to 30 degrees.
Despite the oppressive heat the boys in green secured the victory with a stunning volley by Ryan Walker from a glorious cross supplied by Jordan Walker. 
Afterwards coach Mal Donaghy said: "To finish 11th in the competition so far away from home in extremely testing conditions was an amazing achievement.
"We had the youngest and smallest squad at the world championships with two of our defeats sustained against sides ranked in the top four in the world. The players must take great credit. They have been fantastic ambassadors both on and off the field of play."
Northern Ireland's record at CP World Cup 2017 in San Luis, Argentina: Ukraine 5-0 Northern Ireland; USA 5-0 Northern Ireland; Northern Ireland 1-2 Australia; Venezuela 1-2 Northern Ireland; Argentina 1-0 Northern Ireland; Northern Ireland 2-1 Portugal.
Northern Ireland scorers at the International Federation for Cerebral Palsy Football (IFCPF) 2017 World Championships: Ryan Walker (3), Jordan Walker and David Levy.
Northern Ireland CP Squad: Paul Cassidy, Charlie Fogarty, Christian Canning, Jordan Walker, Cormac Birt, Timmy McClean, David Levy, Sean Coyle, Ryan Walker, Jordan Cush, Ryan Neill.