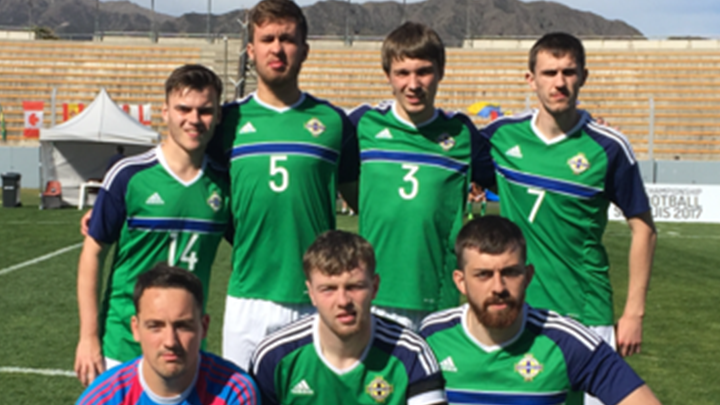 Northern Ireland's Cerebral Palsy team have been under the cosh to date in this year's CP World Cup, which is being staged in Argentina.
In their opening two group games they have conceded 10 goals and failed to find the net. 
However, coach Mal Donaghy is optimistic they will put points on the board in their final group game on Friday.
Ukraine, USA and Australia are the other teams in Group D along with Northern Ireland. Ukraine and USA both won their opening two games and will progress to the quarter-finals.
But Australia, who are also without a win, and Northern Ireland will progress to a series of games which will determine overall rankings between 9th and 16th.
The International Federation for Cerebral Palsy Football (IFCPF) is staging the 2017 World Championships in San Luis, Argentina, from 4-24 September. 
In their first game in the tournament, played at Stadium Juan Gilberto Funes, Northern Ireland lost 5-0 to Ukraine.
Despite the scoreline, the young Northern Ireland squad played well against one of the tournament favourites. 
Ukraine, the defending Paralympic champions, piled on the pressure from the start. The Northern Ireland team's backs were against the wall and they produced some courageous defending – and goalkeeper Christian Canning was man of the match.
It was not all Ukraine, however. Cormac Birt hit the bar and Ryan Walker fired a shot just wide on the break. 

Game two, which was also staged at Stadium Juan Gilberto Funes, saw Northern Ireland come up against USA – and again their opponents proved too strong.
The Northern Ireland defence contained the Americans in the opening 15 minutes but USA grabbed two goals in two minutes and that broke their resistance. It was 3-0 at half-time and 5-0 at full-time.
Mal Donaghy said afterwards: "We expected tough games against both Ukraine and USA. However, I am optimistic that we can get a positive result against Australia."
The game against Australia is being played at Stadium Estancia Grande. 
Northern Ireland CP Squad:
Paul Cassidy, Charlie Fogarty, Christian Canning, Jordan Walker, Cormac Birt, Timmy McClean, David Levy, Sean Coyle, Ryan Walker, Jordan Cush, Ryan Neill.
Males born on or before 6 September 2002 with cerebral palsy, or who have acquired a brain injury resulting in physical impairment or who have had a stroke in the past, qualify to play CP football.