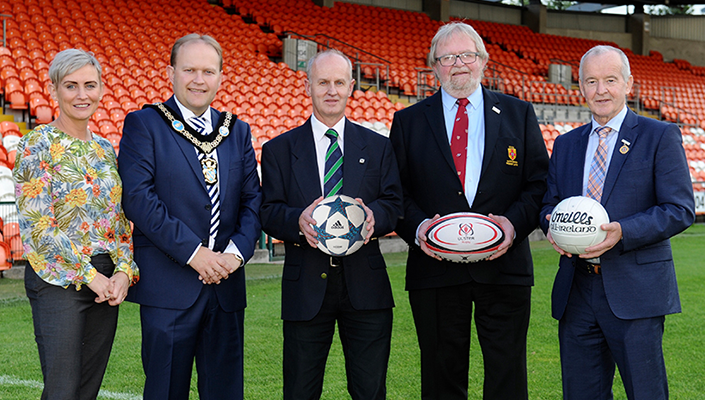 Last week a Multi-Sport Volunteering Forum 'Stay in the Game – promoting lifelong wellbeing in sport' explored interesting and innovative ways to keep people active in sports clubs long after they've finished playing.
The forum was jointly organised by Ulster GAA, Irish FA Foundation and Ulster Rugby and was funded by the Department for Communities.
It brought together grassroot volunteers from all three sports across Ulster to hear from health agencies and sports clubs about innovative ways to keep older volunteers and non-playing volunteers active in their clubs.
Lord Mayor of Armagh City, Banbridge and Craigavon Borough Gareth Wilson officially opened the forum at Armagh GAA Athletic Grounds and gave an overview of his own sports participation through his orange lodge.
Ulster GAA President Michael Hasson said,"It is great to see a real mix of volunteers from across GAA, rugby and football clubs coming together to learn from each other.
"Although we are each involved in the promotion of our own sport, we do have the common aim of promoting participation, health and wellness through our games and our clubs. Volunteers are the lifeblood of our clubs.
"I am delighted that this partnership, funded by Department for Communities, continues to develop and bring together sports volunteers for the good of all our sports."
Irish FA Foundation Board Member Alan Willis said: "This multi-sport forum highlights the importance of our joint partnership, funded by the Department for Communities.
"Sports clubs need support across a range of issues including volunteer participation, and this project allows each sport to promote and increase grassroot lifelong volunteering.
"This forum has focused on keeping the older generation involved and active in our sports clubs and there have been plenty of ideas explored which can be replicated across the sports in the future."
Graffin Parke, President of Ulster Rugby said, "The promotion of lifelong participation undoubtedly helps improve health and wellbeing of older sports volunteers.
"It also helps our sports to keep the skills, knowledge and experience of older volunteers within our clubs which is extremely beneficial. This forum has helped explore ways for sports clubs to provide activities and facilities for all generations ensuring our clubs are for all."