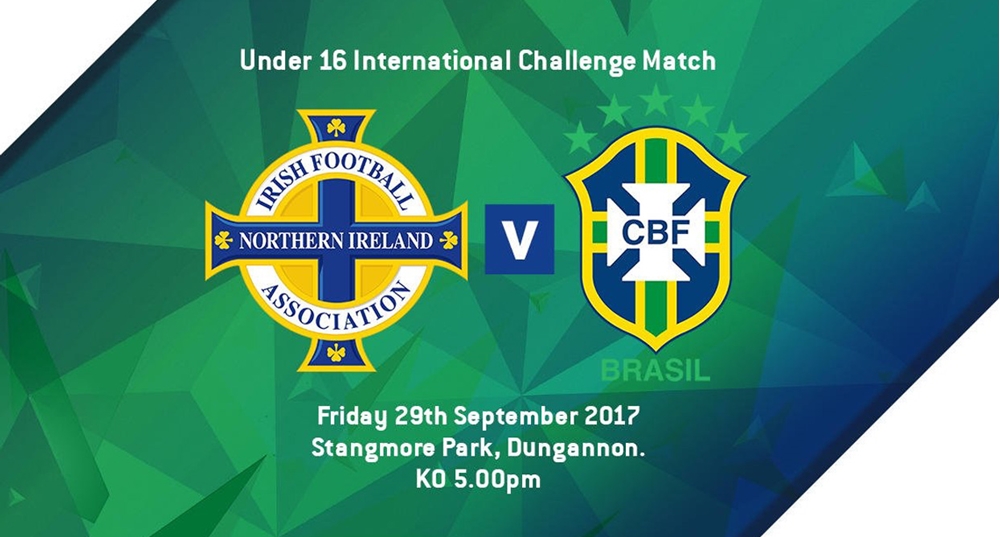 Northern Ireland's U16s are set to take on their Brazilian counterparts on Friday (29 September) in a challenge match.
The boys in green have only played the global giants once since the World Cup Finals in Mexico in 1986 - at the Milk Cup in 2004 – so games against them are a rare commodity.
A game against the Samba boys has been arranged as part of Northern Ireland's preparations for this year's Victory Shield tournament, which is being held in Northern Ireland next month.
Friday's match against Brazil U16s is set to be staged at Stangmore Park in Dungannon (5pm kick-off).
Darren Murphy, coach of the Northern Ireland Schoolboys side, said: "This is a fantastic opportunity for our players to test themselves against one of the biggest countries in the world.
"Our boys are really looking forward to the game which will be perfect preparation for the Victory Shield. The boys have been fantastic all year and are undefeated at this level."
The Brazilian squad features players from some of the leading teams in the South American country, including Palmeiras, Flamengo, Santos and Corinthians among others. And they even have a player called Kaka in their ranks.
Entry to the game in Dungannon is free.
Northern Ireland
Goalkeepers - Liam Hughes (Dungannon Swifts), Conor Byrne (Glenavon); Defenders - Jesse Carson, Trai Hume and Lewis McKinnon (all Linfield); John McGivern and Dylan Snodden (both Cliftonville), Dylan Boyle (Ridgeway Rovers); Midfielders – Carl Johnson and Lee Rea (both Linfield), Chris Hutchinson (Portadown), Peter McKiernan (Cliftonville); Barry Baggley (Glentoran), Gerard Storey (Ridgeway Rovers), Marito Marcel (Dungannon Youth), Caolan McBride (Glentoran); Forwards – Alberto Balde (Portadown), Aaron Brown (Linfield), George Tipton (Ridgeway Rovers), Harry Anderson (Portadown), Coleen Opongo (Cliftonville).
Brazil
Goalkeepers – Cristian de Lima (Atletico Mineiro), Matheus Planelles Donelli (Corinthians); Defenders – Renan Victor da Silva and Henri Marinho dos Santos (both Palmeiras), Gabriel Rodrigues Noga (Flamengo), Pedro Lucas Pereira Silva (Recife), Yan Bueno Couto (Coritiba), Cadu - Carlos Eduardo Bertolassi da Silva (Santos), Eduardo Pinto de Jesus (Vitoria); Midfielders – Daniel Cabral De Oliveira (Flamengo), Fabinho – Fabio Silva de Freitas (Palmeiras), Ivonei Junior da Silva Rabelo (Santos), Diego Gabriel Silva Rosa (Vitoria), Giovanni Manson Ribeiro (Santos), Talles Macedo Toledo Costa (Sao Paulo), Reinier Jesus Carvalho (Flamengo); Forwards – Pedro Arthur Bitencourt Machedo (Juventude), Kaka – Carlos Antonio de Oliveira Costa (Fluminense), Gabriel Veron Fonseca de Souza (Palmeiras), Gabriel Silva Vieira (Palmeiras), Kaio Jorge Pinto Ramos (Santos), Joao Gabriel Martins Peglow (Internacional).
This year's Victory Shield tournament is being organised by the Northern Ireland Schools' Football Association on behalf of the Schools' Association Football International Board.
The shield was presented to SAFIB in 1947 to mark, as suggested by its title, victory by the Allies in World War II - and has been played for continuously since then. 
The 72nd Victory Shield will be staged from 22 October to 27 October, with all games being played at Crusaders FC's Seaview Stadium in Belfast and at the Bangor Fuels Arena, home of Ards FC and Bangor FC.
Northern Ireland have only won the shield once – in 2000-01 – since the current version was set up in 1947.
England have not entered for the past couple of years, so Northern Ireland's U16s will be facing Wales, Scotland and the Republic of Ireland in next month's tournament.