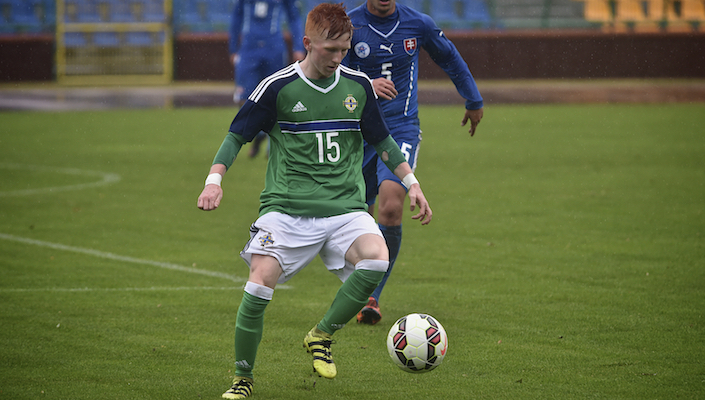 Northern Ireland's Under-19s are jetting off to Poland at the weekend to prepare for and take part in a UEFA U
19 European Championships qualifying tournament.
Stephen Frail's side will face Poland, Germany and Belarus in the space of seven days in Qualifying Round 2.
Their aim will be to finish in the top two of the four-team mini tournament to progress to an elite round early next year which would determine who plays at the U19 Euros in Finland next summer.
Northern Ireland U19s boss Stephen Frail said his players are excited about taking part in the qualifiers and he feels he has assembled a good squad.
He said: "We are going in to this tournament with a young squad of players who are capable of producing good performances at this level.
"We have a good mixture of players. We have players attached to Premiership sides in Northern Ireland and players who are with top sides in England and Scotland. We just have to be confident in the way we approach all three matches."
In their first game Northern Ireland will take on host nation Poland in Gliwice next Wednesday (4 October) at 4pm.
The U19s boss said: "This will be a very tough match but one I feel and hope we are equipped to deal with. It is important that we get off to a positive start."
Northern Ireland, who will be based near Katowice during the tournament, then play Germany on Saturday 7October. The venue is once again Stadion Piast in Gliwice, with a noon kick-off.
Stephen Frail said: "The Germans are always very strong at this level. We will have to match them physically and then try to deal with their style of play while at the same time striving to impose our strengths and game plan on them."
The U19s' third and final match is against Belarus in Chorzow on Tuesday 10October at 6pm.
The U19s boss said: "Hopefully we will go into the final match with something to play for.
Belarus will be another stiff test for us."
Here's the Northern Ireland squad for the U19 tournament in Poland: