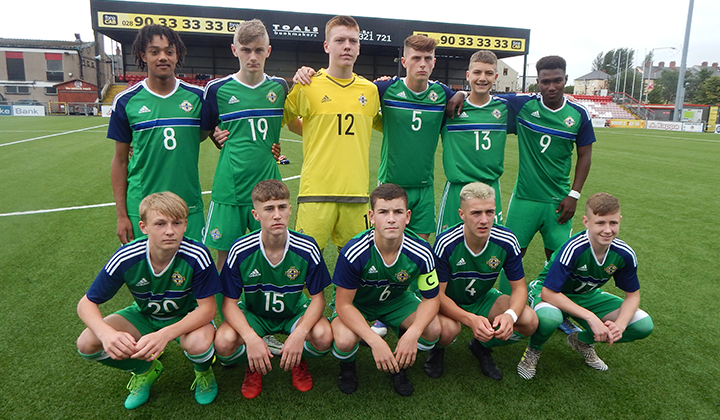 The Northern Ireland U16 team will continue their preparations for next month's Victory Shield tournament with a double header against Finland next week.
The first of the international friendlies takes place on Tuesday (12 September, 6.30pm) in Jyväskylä with the second game being staged next Thursday (1pm) in the city in central Finland.
The Schoolboys side will be hoping to keep their unbeaten run going. In recent months they have won two games at home against Estonia U16s and drawn twice with Austria's U16s away.
The double header next week will be the team's final preparation matches ahead of the Victory Shield – the Home International series for U16 teams – at the end of next month.
Northern Ireland U16 manager Darren Murphy says the matches against Finland are vital for the players' development.
He pointed out: "The matches building up to the Victory Shield have been fantastic for the boys. We have three 2003 players in the squad as seven 2002 players have been selected for the Northern Ireland U17 squad in preparation for their European Championship qualifying campaign.
"This trip gives us a chance to look at these young players on the international stage. I am expecting two very tough games with Finland but also really looking forward to the challenge."
The Northern Ireland squad for the games against Finland: David Walsh (Linfield), Conner Byrne (Glenavon), Trai Hume (Linfield), Dylan Boyle (Ridgeway Rovers), John McGivern (Ridgeway Rovers), Vicky Saldanha De Rosa (Dungannon Swifts), Chris Hutchinson (Portadown), Carl Johnston (Linfield), Jesse Carson (Linfield), Gerard Storey (Ridgeway Rovers), Barry Baggley (Glentoran), Euan Devreney (Rangers), George Tipton (Ridgeway Rovers), Peter McKiernan (Cliftonville), Aaron Brown (Linfield), Alberto Balde (Portadown), Eoin Teggert (Cliftonville) and Lewis Mackinnon (Linfield).