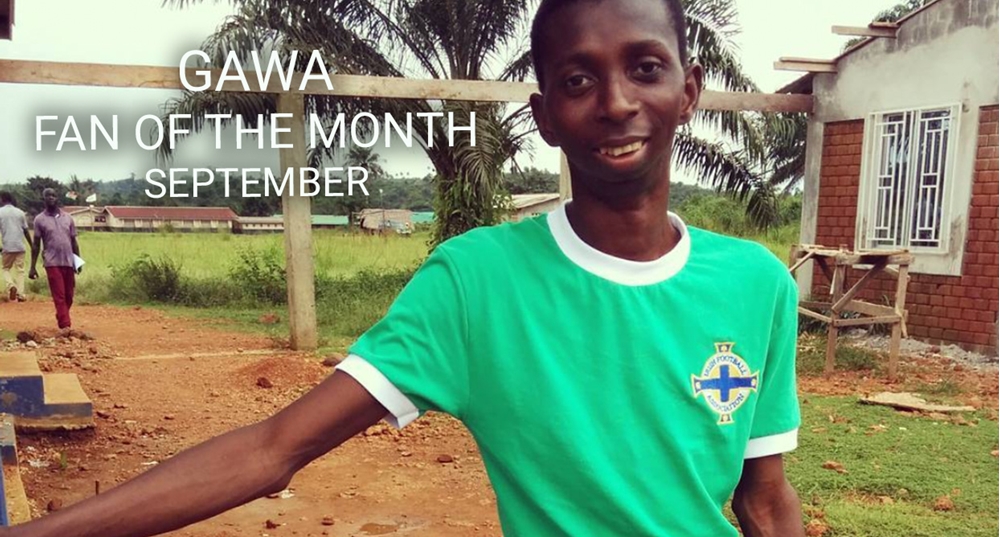 September saw us secure second place in our World Cup Qualifying group after back to back wins. Have a look at our gallery at the bottom of the page to see if you made it into our highlights of the celebrations!
Our Fan of the Month for September is TJ, our number one fan in Sierra Leone! 
After losing his parents, TJ was brought into the care of Children of the Nations in Sierra Leone. For the last number of years TJ's care in Sierra Leone has been supported by a family in Maghaberry which is part of the reason he has a love for all things Northern Ireland! 
TJ said: "It's great to be considered for Fan of the Month! I wish everyone good luck! With hard work we will make it to the World Cup!"
TJ has had to overcome lots of medical challenges over the years but is now heading off to university age 20. He will study Information Technology and his dream is to be a computer programmer and hopefully one day will be able to make the trip to Northern Ireland. 
For more information about what Children of the Nations do CLICK HERE or to make a donation you can visit HERE.
We pride ourselves on the welcoming, family atmosphere at our home matches and your photos from September have only secured this!
Gareth and Tom Gordon had a father and son outing at the Czech Republic match while the Debbie Beggs-Goodman family also made their way to the game! Ian Reid even brought his daughter to her first ever Northern Ireland game in September. 
Chris Pollock was one of the many Northern Ireland fans to make the journey to San Marino and sent us some fantastic photos of him and the San Marino supporters. 
Of course it wasn't all about the matches in September as the GAWA travelled across the world representing Northern Ireland. 
Rachael Irwin was wearing her Northern Ireland shirt with pride as she posed for a photo at Disney!
Sarah Cameron showed off her GAWA colours when she took a tour of the Great Wall of China.  Almost as solid as our defence.
You can see all of the fans mentioned and more in our GAWA Fan of the Month gallery below: