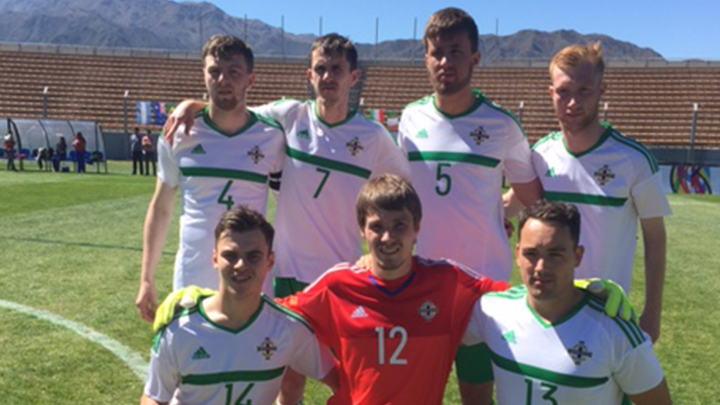 Northern Ireland's Cerebral Palsy team have registered their first win at this year's CP World Cup in Argentina.
Despite losing all of their group games, the CP team are still competing for overall ranking positions.
Their first win at the seven-a-side tournament came yesterday against Venezuela – and they thoroughly deserved their 2-1 victory.
Northern Ireland had the bulk of possession in the first half and created chances but they couldn't find the back of the net. Ryan Walker and David Levy both came close. The game was goalless at the break.
Not long into the second half Venezuela's captain scored against the run of play. His initial shot was saved by Christian Canning but the ball spun back over the line before the keeper could recover.
Northern Ireland were still on top and the pressure paid off when Ryan Walker scored twice on 52 and 59 minutes to help his team secure the win. Paul Cassidy, who looked extremely solid at the back, was the man of the match with Ryan Walker a close second.
After losing 5-0 to both Ukraine and USA, over the weekend Northern Ireland were also narrowly defeated in their final group game against Australia.
Despite falling behind early in the first half a Jordan Walker penalty on the stroke of half-time saw the teams going in level at the break.
Australia regained the lead early in the second half and then Northern Ireland keeper Christian Canning made two vital saves to keep his side in the game. Late on the Australian goalkeeper produced a terrific save to keep out Jordan Walker's long range attempt.
Northern Ireland continue their quest to finish as high as possible in the 9th to 16th ranking places tomorrow when they face host nation Argentina.
The International Federation for Cerebral Palsy Football (IFCPF) is staging the 2017 World Championships in San Luis, Argentina, from 4-24 September. 
The game against the host nation is being played at Stadium Juan Gilberto Funes (15.30 start local time). 
Northern Ireland CP Squad:
Paul Cassidy, Charlie Fogarty, Christian Canning, Jordan Walker, Cormac Birt, Timmy McClean, David Levy, Sean Coyle, Ryan Walker, Jordan Cush, Ryan Neill.