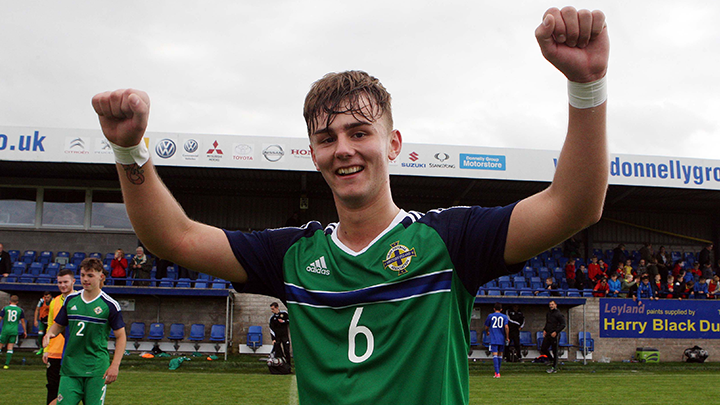 Northern Ireland U19s beat Cyprus U19s 1-0 at Stangmore Park, Dungannon, in the second of two matches in two days between the sides.  
Liam McKenna's 85th minute volley was the difference between the two sides. The ball fell to the Warrenpoint midfielder just inside the box and his well hit shot flew past the diving Demetris Demetriou in the Cypriot goal.

The match had been marred in controversy when the visitors had a defender sent off at the end of the first half. Nikolas Menelaou appeared to push referee Shane Andrews and the Cypriot defender was shown a straight red card.
Despite the man advantage, Northern Ireland had struggled to break down a stubborn Cyprus defence.  However, McKenna's moment of genius was enough to break the deadlock and ensured that Stephen Frail's side go into EURO qualifying with a win.

Speaking after the game, the U19 manager said:

"I am really pleased with the result, if not the performance. I thought we played better in the first half on Sunday if I am honest, but it was good to get the win today. We were dogged and we learned to cope with the particular antics that Cyprus brought to the game. 
"I though Liam's goal was excellent. It was a great finish. It was his right foot, which is probably his weaker foot. He controlled it, when he could have smashed it."

"We played two different teams in the two matches, so we have plenty to think about as we consider our squad for the qualifiers."

Northern Ireland U19s play Poland, Germany and Belarus in UEFA U19 Championship qualifying in Poland next month. 
Northern Ireland:
Declan Dunne (GK), Thomas Maguire, Niall Owens, Ethan Patterson, Eoin Toal ©, Liam McKenna, Jack Chambers, Caolan Boyd-Munce, Leo Brown, Tyrone Lewthwaite, Bobby Burns, Connor Larkin (GK), Chris Crane, Daniel Ballard, Cormac Lawlor, Kyle McDowell, Chris Gallagher, Alfie McCalmont, Ryan Strain, Thomas Roscoe, Ross Larkin.

Cyprus: 
DemetrisDemetriou (GK), PetrosIoannou, NikolasMenelaou, ZachariasAdoni, MarkosMoustakis, IoannisPanayides, NicolasPatsis, ChristosHadjipaschalis, MichalisCharalampous©, JuckRoles, LoizosPoynnas, KonstaninosPapamichail, MichalisIoannou, DaniloSpoljaric, StyianosPanteli, CharalamposCharlampous, AnastasisDemetriou, KonstantinosSergiou